Headed towards western Georgia? Martvili Canyon is a natural wonder you won't want to miss.  This hidden canyon and beautiful waterfall used to be a place where the local noble family, the Dadiani, used to bathe. Today it is a popular tourist spot.
Having been rehabilitated for tourism, the canyon is well-maintained, and boat tours are offered. The canyon leads to a waterfall.
If you are looking for a bit more adventure, head towards the lower part of the canyon where the water creates a natural pool and take a dip in the cool water.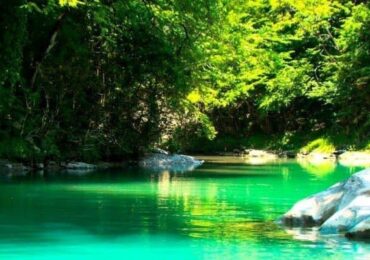 What to see:
Nokalakevi – Once you have visited the Martvili Canyon, you can stop at the Nokalakevi fortress on the way to Zugdidi. Nokalakevi is a beautiful archeological site which dates back to the 4th-6th centuries. The area is a historically important and strategic area for guarding the Samegrelo region, overlooking the Tekhuri River. There is also a museum in which you can view local artifacts and learn about the extensive history of the region.
Dadiani Palace (Zugdidi)– The Dadianis were an aristoratic family which had very close relations with Napolean Bonaparte. Many items stored in the palace museum connected with France, and more specifically Napoleon himself, such as his death mask, a private letter and other curios. The museum is home to more than 41,000 items, so can take quite a while to get around. One of the best parts of the museum is its botanical garden, which was created at the wish of Princess Dadiani during the 19th century and is home to many distinctive and rare plants.
Best Time to visit Martvili Canyon:
Open year-round, although warmer months are your best bet since boat tours are not arranged in snowy and rainy weather.
How to get to Martvili Canyon:
Although the distance from Zugdidi is not short, a trip to the Martivili Canyon can be done in a day.  It will take about an hour and a half for one way.
You can take a bus from the Kutaisi bus station (behind McDonald's) or a taxi.
Martvili Canyon on the map
15 Days

ALL INCLUSIVE 14-day group tour to Georgia – is the best option for those travelers wishing to visit Georgia. Look no further as you have already found a perfect Georgia tour program.

3 DAYS

Lagodekhi getaway tour is a perfect 3-day travel program for a weekend in Georgia. Ideal tour package for those wishing to spend a couple of days in nature. Just a few hours from Tbilisi, visitors can…

7 Days

The tour itinerary is drafted around places that are far from major tourist attractions. Tea village of Tsitelmta in the Guria region or Machakhela nature reserve are hardly ever visited by mass tourists. The fact that indeed makes…

12 Days

ALL INCLUSIVE 12-day Georgia group tour program is a result of our ongoing efforts to make all our travel options eco-friendly. Based on a responsible travel concept, this tour…

12 Days

Georgia Green tour 12-day program is a result of our ongoing efforts to make all our travel options eco-friendly. Based on a responsible travel concept, the tour combines the unique Georgian culture, rich history…

Visit real Georgian village on the shores of Bazaleti lake, just 1-hour drive from Tbilisi. Village Mlashe is a home to a brand-new sustainable tourism project – local family-run Salty Garden.

Horseriding is very popular in Georgia and there are plenty of opportunities to ride a horse in different areas of the country. Explore amazingly picturesque and otherworldly East Kakheti landscapes on a horseriding day tour.