Regardless, if you are planning on visiting only one part of Racha or thinking about doing day tours in many parts, Oni should be your primary destination and home base.
There are many things to see in and around Oni, as well as a couple of sweet and authentic guesthouses.
Although it might sound counterintuitive because of its surrounding mountains, Oni is a great place to get around on bike, which some guesthouses provide or a look at nearby waterfalls and lakes.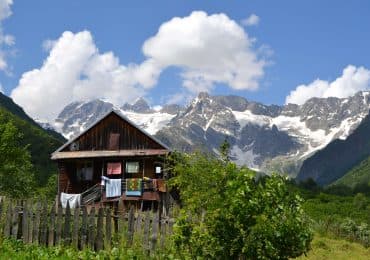 What to See in Oni:
Synagogue – In a country which is flooded with Orthodox Christian churches, it might come as a surprise to stumble across a synagogue in a high mountainous area. However, up until the 1990s Racha had one of the largest populations of Jews in Georgia. The synagogue was built in 1895 and is the oldest functioning synagogue in the country.
Oni Local Museum – Houses many archaeological findings, starting from the Stone Age up until medieval times. Entrance costs only 2 GEL.
White-Water Rafting –The most popular route is on the Rioni River from Ambrolauri.
Utsera – One of the most amazing features of Racha is abundance of mineral waters. Utsera is rich in these waters. It is 1,050 meters above sea level, and, if you are up to the challenge, can be hiked to from Oni since it approximately 10km away. There is also an interesting church in the area.
Best Time to Visit Oni: Summer and early fall.
How to Get to Oni:
Bus is not recommended since the trip can take up to 8 hours and the roads are not in the best shape.
It is best to either rent a car in Tbilisi or take a  marshrutka (minibus) from Didube in Tbilisi.