Group tours to Georgia and South Caucasus are a great way to discover the region. One of the major benefits of such travel – discounted group tour price. Because all of the major costs are shared between group members. Our team has managed to come up with prices that allow us to run a trip even if there is only 1 traveler on a tour. So they are all – guaranteed departure tours.
Eco-friendly and responsible travel
Group tours are a perfect way to be a responsible traveler. Our main mission is to run only eco-friendly tour options in line with our responsible travel policy. Small group tour journeys are of less impact to local communities and places visited. And we offer all our tourists reusable water bottles, as well as bamboo-made replacements of your toothbrushes 🙂 . We encourage you to also take care about local environment and see sustainable tourism in action.
Small group tour options
Small group tours in the South Caucasus region is one of the best options to see all three countries (Azerbaijan, Georgia and Armenia) in one go and to meet other travelers along the way. Currently GEOTREND offers a number of tour options. Starting from 8-day tour of Georgia to 15-day tour of all 3 countries. Georgia only options are also available in longer durations: Green tour is among the best selling travel programs. The tours we offer are all with fixed departure dates and scheduled to run on a regular basis.
Group tour packages available in 2020 travel season:
8 DAYS

Guaranteed small group tour in Georgia with fixed departure dates. This is an 8-day tour around Georgia's major highlights.

14 Days

ALL INCLUSIVE 14-day group tour to Georgia – is the best option for those travelers wishing to visit Georgia. Look no further as you have already found a perfect Georgia tour program.

12 Days

ALL INCLUSIVE 12-day Georgia group tour program is a result of our ongoing efforts to make all our travel options eco-friendly. Based on a responsible travel concept, this tour…

15 DAYS

Small group tour to Caucasus offers you well-managed travel program with the tour price that is hard to beat. Tour combines 15-day itinerary in Azerbaijan, Georgia and Armenia.
Benefits of traveling in a group
While some travelers prefer individual journeys, it is always good thing to consider traveling in a small group. First of all there is an economical benefit. Especially if you're a solo traveler or a couple. Private packages are always higher in pricing. Having other tourists on the same route lowers down the total cost. As some of the expenses are shared. Like, for instance, transportation and local guide fees.
Another exciting aspect of such trip is having likeminded people onboard. It is always nice to make new friends. But when in a foreign country this has an added value of sharing new impressions and memories. Plus there will always be a person to take a photo of you next to that amazing ancient fortress. Which may look much nicer on Instagram. Comparing to selfies where your face would block most of the scenery behind you 🙂
And last but not least – we are insisting on the fact that traveling in a group is a choice of a responsible traveler. We believe that the maximum number of people we take on board (which is eight) is an ideal quantity. It helps us meet all of your travel needs, pay attention to each tour participant, as well as to minimize a potential environmental impact of tourism in rural and protected areas of Georgia.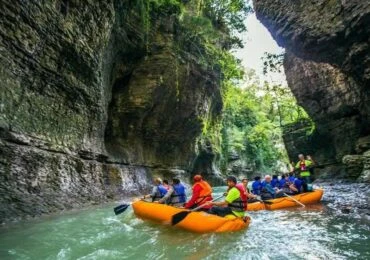 Difference between group tour and individual travel
After you have decided to make your vacation colorful and active, you will be probably choosing between two options: to travel on your own or purchase a group tour. Each option has its advantages and disadvantages to be considered beforehand.
Obviously, individual trip gives a feeling of complete freedom and independence: you can travel on your own route, move from place to place whenever you wish and visit sights according with the program created specially for you. However, you should be prepared to spend a lot of time and effort on organizing such tour in Georgia: to study and choose "must see" cities, sights, restaurants, wineries… And then to understand if all of them are really deserve to be visited and if it is possible to include all of them in the program of one trip to make it rich and comfortable at the same time.
Group tours in this regard are much more convenient and less expensive. Fixed price of the tour already includes most of interesting and important sights, best authentic restaurants, comfortable accommodation and itinerary is created with the best possible logistic and price-quality ratio. The journey is carried out on a well-planned and checked route, and all members of the group know that after an active day of sightseeing they will be able to hearty eat, drink good wine and relax in a cozy hotel.
Comfortable vehicles are used, depending on the travel distance and size of the group (maximum of 10 persons). Each group is accompanied by professional guide who does not only monitor the organizational issues, but also provides with exciting information about the cities, historical and cultural places, nature, local cuisine and traditions all trip long.
Everyone are welcome to join our Georgia and South Caucasus group tours.