Our story in brief
Since you're here, we thought that you might be interested in learning that…  
Who We Are
United by the single idea of putting Georgia on the map of responsible tourism our team of travel industry professionals decided to leave different level jobs with different travel agencies and local tour operators in order to create GEOTREND.
Months of fun brainstorming, research of exciting and interesting ideas, and some planning came down to the very important milestone in our lives – in September 2017 our first Georgia tour options and travel packages went public.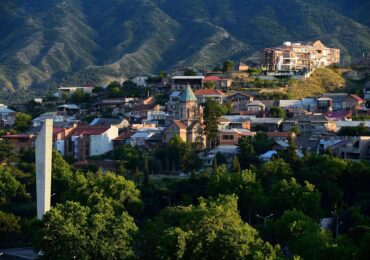 and…
We have managed to gain trust of many travelers, as well as their time and emotions since then 🙂 Some of our guests were kind enough to leave their feedbacks on our TripAdvisor page, motivating us further, and significantly contributing to the improvement of our services, thus making our future travelers experience even better.    
It's True That…
At the first glance it's probably challenging for you to say what makes us different and standing out from many-many other Georgia travel companies. As we also do organize private and individual tours in Georgia and South Caucasus; we also do have scheduled departure small group tours; and of course we do arrange wine tours… 
So Why Us
Well, we could drone on a lot about our customer service standards, carefully drafted itineraries, handpicked accommodation options, selection of comfortable transport, and accompanying human beings: guides and drivers. But we won't.
Instead, here is what's behind our understanding of responsible travel: take nothing but memories and pictures, leave nothing but footprints. The origin of this quote is believed to be unknown. But it is a perfect summary of what GEOTREND is trying to achieve. It is thrilling that our efforts in ecotourism has recently been recognized on a nationwide level. We've been accepted as a full member of Georgian Ecotourism Association. And as from September 2019 – on international scale too: we've been accepted as a member of Global Sustainable Tourism Council (GSTC).
Another Very Important Point
We implement eco-friendly aspects into our tours where possible by employing hybrid or electro engine transport, by avoiding usage of plastic as much as possible. While planning and drafting tour programs our travel consultants always put interests of local communities and people first and, even being small, contribute to their sustainability. Check-out this 14-day Georgia small group tour program to get an idea.
And this is just a beginning of a much bigger idea of conquering the world turning all of our tours green and responsible. 
And you, as a potential guest of ours, can be rest assured that memories you leave Georgia and South Caucasus with will last much much longer than those of most of your other trips 🙂 Plus, it is a magically wonderful feeling – to be a responsible traveler.
More Reading About Georgia
Wine in Georgia is something of a separate subject to talk about. Wine in Georgia is more than just an intelligent drink ?! It's a unique culture, and ancient traditions. It's poetry and music combined. Every single drop of wine – is a piece of art for it's creator. Something that's been cherished through ages.
With every guest of ours we strive to pass on these feelings. We want people from around the globe visiting Georgia see and understand the significance of wine in our culture. Read more
What to see in Georgia? What makes travel to Georgia special? Why Georgia has constantly been among trending destinations recently? We have a dedicated team thats sole goal is to answer these questions for you. More than a hundred attractions already described. And the list is constantly growing.
Brief, comprehensive and easy to navigate – all to make you fall in love with everything Georgia has to offer. Read it all
Cost of travel to Georgia. This is without a doubt second most important question when planning a trip. Knowing a travel budget beforehand is always a good idea. Check out the major things one should consider when putting together travel expenses list. Read more