A very extensive and complex cave town, Vardzia transports you to the 12th century, when Georgia was flourishing and powerful under the rule of Queen Tamar.
This astounding medieval city is around 60km from Akhaltsikhe in the Samtskhe-Javakheti Region.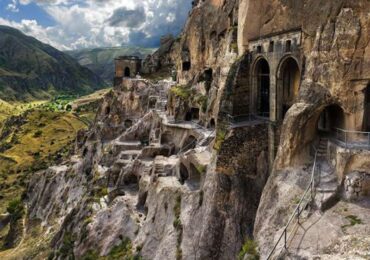 What to See in Vardzia:
Vardzia Monastery – Once home to 30,000 inhabitants. Cave after cave sculpted out of the rocky mountainside. Open every day except Monday,  entry 7 GEL. It is advisable to hire a guide in order to fully enjoy and understand your experience, since it can be tricky to navigate through the caves and passages. It can be very hot in summer, so take all necessary precautions to be protected from the sun, including lots of water.
Cave Town Vanis Kvabebi – A lesser-known area, just 2km from the massive Vardzia. It is a greener area and has lots of caves and tunnels to wander through. You can access from a white monastery at the entrance.
Khertivis Fortress – A great place to stop on the road from Akaltsikhe. Conveniently situated on the road connecting Akhltsikhe and Akhalkalaki  and overlooking the confluence of Mtkvari and Paravani Rivers. It is one of the largest exsiting fortresses in Georgia, with walls over 20 meters high.
Rabati Castle – Chances are you will be passing Akaltsikhe, so make sure to visit the newly-renovated Rabati Castle which overlooks the whole city.
Best Time to Visit Vardzia:  Late spring, summer or early fall.
How to Get to Vardzia:
If you are traveling from Tbilisi you must first get to Akhltsikhe and then take a marshutka (minibus) to the cave city. It is possible to take a marshutka or bus to Akhaltsikhe (about 4 hours' drive from Tbilisi).
The easiest way (if you don't have a car) is to take a train to Borjomi and continue by taxi.
Most people decide to stay in Akhlatsikhe for the night and travel to Vardzia for the day. However, if you do decide to stay in Vardzia there is an amazing hotel called the Vardzia Resort which offers amazing service, views and atmosphere. Naturally, it is not cheap and is in high demand, so early booking is advised.