As the former capital of Georgia and the second-largest city, Kutaisi has a lot to offer tourists.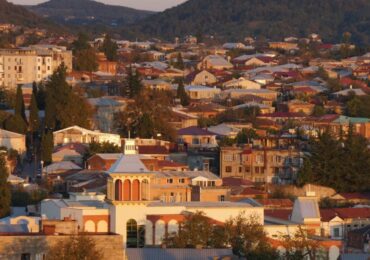 What to see in Kutaisi:
Bagrati Cathedral and Gelati Monastery – Bagrati Cathedral is one of the largest and most cherished churches in the country. It was built in the 11th century and features beautiful frescos from the era. Gelati Monastery is nearby. It was built in 1106 and was the first educational institution in the country. Both are listed as UNESCO World Heritage sites.
Sataplia Nature Reserve – A trip to Kutaisi isn't complete without a trip to Sataplia, on the slopes of an extinct volcano. This managed reserve is in the Tskaltubo municipality, about 10 km from Kutaisi. Dinosaur footprints found in the area are one of the main tourist attractions, along with impressive caves and views. The reserve is well maintained, with easily-accessible pedestrian tourist routes and brightly-lit caves. Prometheus Cave – Even more stunning than the Sataplia Nature Reserve is the Prometheus Cave. This cave takes about an hour to explore and features amazing stalagmites and stalactites, petrified waterfalls and even an underground lake on which boat tours are offered (weather permitting).
Parliament building – If you would like to learn a little more about modern-day Georgia, plan a visit to the futuristic – and remarkably empty – parliament building. Tours are offered in which you can learn more about the country's parliamentary system and why the building is not used as the permanent base of the legislature (by appointment only).
How to get to Kutaisi:
train
marshutka (minibus), bus. Bus and minibus tickets cost an average of 10 to 20 Gel.
taxi. Taxi prices start from 100 GEL ex Tbilisi.
15 Days

ALL INCLUSIVE 15-day group tour to Georgia – is the best option for those travelers wishing to visit Georgia. Look no further as you have already found a perfect Georgia tour program.

12 Days

Georgia Green tour 12-day program is a result of our ongoing efforts to make all our travel options eco-friendly. Based on a responsible travel concept, the tour combines the unique Georgian culture, rich history…

Visit real Georgian village on the shores of Bazaleti lake, just 1-hour drive from Tbilisi. Village Mlashe is a home to a brand-new sustainable tourism project – local family-run Salty Garden.

7 Days

The tour itinerary is drafted around places that are far from major tourist attractions. Tea village of Tsitelmta in the Guria region or Machakhela nature reserve are hardly ever visited by mass tourists. The fact that indeed makes…

12 Days

ALL INCLUSIVE 12-day Georgia group tour program is a result of our ongoing efforts to make all our travel options eco-friendly. Based on a responsible travel concept, this tour…

3 DAYS

Lagodekhi getaway tour is a perfect 3-day travel program for a weekend in Georgia. Ideal tour package for those wishing to spend a couple of days in nature. Just a few hours from Tbilisi, visitors can…

One day farm tour to the village of Atskuri in Georgia (near the town of Borjomi). Dive into the life of Georgian farm and see how locals make their living. With this amazing day tour we offer our guests to experience agricultural life firsthand.