Known as the 'Green Monastery' due to its home among trees of a distinctive green, as well as the greenish tint on its walls, the official name of the monastery located in the Borjomi Municipality is the Chitakhevi St. George Monastery. The village in which it is found carries the same name, Chitakhevi.
One of the interesting features of the monastery is the bones of monks tortured and killed in the 16th century during invasions.
The Green Monastery has beautiful views and a lovely garden. Therefore, it is a nice place to picnic and spend some time enjoying the outdoors.
Since the monastery is a half-day trip, it is advisable to plan additional activities for the day.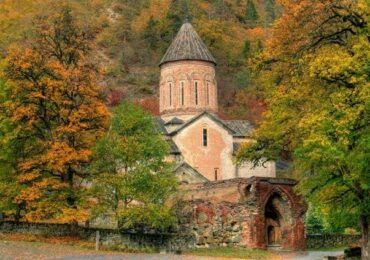 What to see in Borjomi:
Borjomi Central Park – The Borjomi Central Park is one of the best places to visit in the area with young children. There are various fountains and playgrounds, as well as a path which leads up to sulphur springs, although you should take into consideration that it is about a 3km walk from the park entrance. However, the park does offer car rides at certain times.
Best time to visit Borjomi:
Different seasons have their advantages. If you are looking to do some walking/hiking and enjoy the colors, late spring/summer is best. In winter, you could plan to integrate this trip into an outing to the nearby ski resort of Bakuriani.
How to get to Chitakhevi:
From Borjomi, the most convenient form of transportation is a taxi from the city center. It is advised to take a larger car since part of the road is unsealed.