Known as the 'Green Monastery' due to its home among trees of a distinctive green, as well as the greenish tint on its walls, the official name of the monastery located in the Borjomi Municipality is the Chitakhevi St. George Monastery. The village in which it is found carries the same name, Chitakhevi.
One of the interesting features of the monastery is the bones of monks tortured and killed in the 16th century during invasions.
The Green Monastery has beautiful views and a lovely garden. Therefore, it is a nice place to picnic and spend some time enjoying the outdoors.
Since the monastery is a half-day trip, it is advisable to plan additional activities for the day.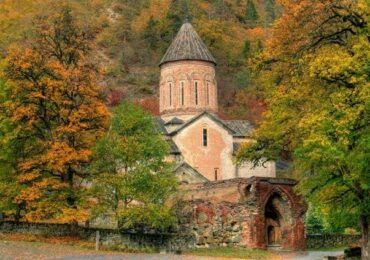 What to see in Borjomi:
Borjomi Central Park – The Borjomi Central Park is one of the best places to visit in the area with young children. There are various fountains and playgrounds, as well as a path which leads up to sulphur springs, although you should take into consideration that it is about a 3km walk from the park entrance. However, the park does offer car rides at certain times.
Best time to visit Borjomi:
Different seasons have their advantages. If you are looking to do some walking/hiking and enjoy the colors, late spring/summer is best. In winter, you could plan to integrate this trip into an outing to the nearby ski resort of Bakuriani.
How to get to Chitakhevi:
From Borjomi, the most convenient form of transportation is a taxi from the city center. It is advised to take a larger car since part of the road is unsealed.
12 Days

ALL INCLUSIVE 12-day Georgia group tour program is a result of our ongoing efforts to make all our travel options eco-friendly. Based on a responsible travel concept, this tour…

12 Days

Georgia Green tour 12-day program is a result of our ongoing efforts to make all our travel options eco-friendly. Based on a responsible travel concept, the tour combines the unique Georgian culture, rich history…

One day farm tour to the village of Atskuri in Georgia (near the town of Borjomi). Dive into the life of Georgian farm and see how locals make their living. With this amazing day tour we offer our guests to experience agricultural life firsthand. 

Horseriding is very popular in Georgia and there are plenty of opportunities to ride a horse in different areas of the country. Explore amazingly picturesque and otherworldly East Kakheti landscapes on a horseriding day tour.

7 Days

The tour itinerary is drafted around places that are far from major tourist attractions. Tea village of Tsitelmta in the Guria region or Machakhela nature reserve are hardly ever visited by mass tourists. The fact that indeed makes…

Visit real Georgian village on the shores of Bazaleti lake, just 1-hour drive from Tbilisi. Village Mlashe is a home to a brand-new sustainable tourism project – local family-run Salty Garden.

3 DAYS

Lagodekhi getaway tour is a perfect 3-day travel program for a weekend in Georgia. Ideal tour package for those wishing to spend a couple of days in nature. Just a few hours from Tbilisi, visitors can…

15 Days

ALL INCLUSIVE 15-day group tour to Georgia – is the best option for those travelers wishing to visit Georgia. Look no further as you have already found a perfect Georgia tour program.