Anyone who has entered a store in Georgia or found themselves at a Georgian feast has surely noticed mineral water labeled "Borjomi". The popular springs are from the area of Borjomi, but there is so much more to see and learn about the area, roughly 2 hours from Tbilisi.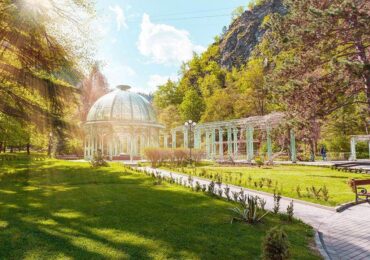 What to see in Borjomi
Borjomi-Kharagauli National Park –one of the largest in Georgia, so there are many trails to choose from. The 3km hikes take roughly 90 minutes, but there are also 3-day trails which take you through rivers, mountains and dense forest. The main part of the park is well maintained with signs and designated picnic areas. They also offer hiking, horse-riding, cycling, snow shoes, and cultural and educational tours. The routes are open year-round, making it a great place to visit anytime.
The "Kukushka" –the sweetheart of the Borjomi area, there is even a children's song dedicated to the small train. Regardless of the season, you should take a day to ride the Kukushka and visit the resort of Bakuriani which offers some amazing slopes for skiing in winter. The ride takes up to 3 hours,and is a great way to take in the magnificent scenery without getting out of breath. It's advisable to take a taxi back to Borjomi, since it's only a half-hour drive.
Borjomi Central Park –one of the best places for young children. There are various fountains and playgrounds, as well as a path leading to sulfur springs (about a 3km walk from the park entrance). In summer, the cable car can take you high above the park to a Ferris Wheel offering some splendid views.
Tsagveri and Timotesubani –nearby resort areas where you can hike, drink from springs and even see some historical monuments such as the old cathedral in Timotesubani. However, be aware that public transport does not operate to these resorts.
There are various high-end hotels in Borjomi where you can pamper yourself and take a well-deserved rest after a full day of hiking. There's also a vast array of budget accommodation and everything in-between.
Best time to visit Borjomi: All year.
How to get to Borjomi:
Car (2 hours)
Taxi
Bus
Marshrutka (minibus)
Train
Car (2+ hours)
Taxi
Bus
Marshrutka (minibus)