Akhalkalaki or word or word translated "New City" is the located in the Samtskhe-Javakheti region of Georgia. Not far from the Turkish and Armenian borders, it is a town of ethnic diversity in Georgia, with most of the population being ethnic Armenian. Unfortunately, the city itself does not offer many tourist attractions, but you can easily find accommodation there and travel around to visit its beautiful mountainous surroundings.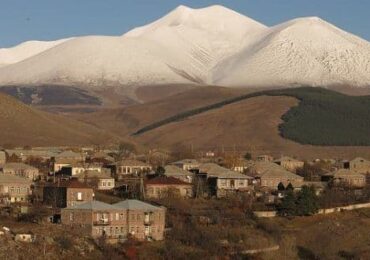 What to see in Akhalkalaki:
Vardzia – The main attraction to visit is the Vardzia cave monastery city, which literally takes you on a journey to the past. More specifically to the second half of the 12th century when most of the city was built with during the reign of Queen This amazing complex housed more than 5,000 caves and could accommodate a city of 50,000 people. Therefore, it should not come as a surprise that when visiting Vardzia, you will be doing a lot walking, since this is the only way to get around the caves. While entrance costs only 5 GEL for adults, it is recommended that you hire a tour guide which can be pricier. However, it is worth it since a guide will be able to show you how to optimally navigate through the caves. Make sure that you include a visit to the onsite Church of Dormition with frescoes dating back to the 1180s. While you can always go back to Akhlkalaki for accommodation, another alternative is splurging on a stay at the nearby Vardzia Resort.
Khertvisi Fortress – Another well-loved attraction is the Khertvisi Fortress which is free to visit and it fully authentic since it has not been reconstructed. This castle was a politically important one since it stands where the Mtkvari and Paravani Rivers meet. This made it a difficult point for enemies to invade. The climb to the top of the castle is not easy (it is approximately 5 min), but the views are definitely worth it. In addition, there is small pedestrian bridge to cross the river, so this makes it a nice adventure.
Sapara Monastery – If you are looking for a low-key and calm setting to travel to, the Sapara Monastery is recommended. Lost in nature, it fully lives up to its name, which means "hidden". The road is fully renovated so the trip should not take more than half an hour.
Best time to visit: Late Spring, Summer or early Fall.
How to get to There:
There are many options for getting to Akhalkalaki but the most convenient is probably to take the train until Borjomi train station and a taxi the rest of the way.
For visiting nearby places, there are many local options such as marshrutkas (minbuses), buses and taxis. Depending on the time of year, it might be very hot and taking plenty of water is a necessity since stores are scarce along the roads towards the attractions.