The authentic and distinguished city of Chiatura is often overlooked in tours of Georgia. True, having been untouched for decades now it is often referred to as a ghost town, but this is precisely part of its charm. This is the place to go if you are interested in seeing Soviet architecture and monuments. It is a truly a trip into the past.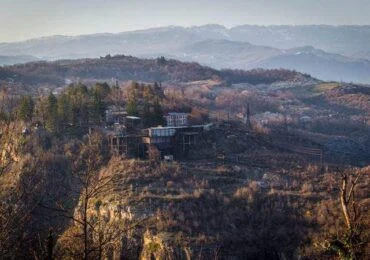 What to see in Chiatura:
Chiatura Cableways – It might seem like it now, but not too long ago Chiatura was a vibrant mining town in Imereti. The ropeways were put up to connect each corner of the town to the mines at the top of the cliffs. However, after the collapse of the Soviet Union, the city slowly started to fade away. Even today, Chiatura is the only city in the world to use so many cable cars as public transport. While they are not as productive as years ago, manganese and coal mining is still carried out and the production process can be seen by the public.
Khatski Pillar –You can combine your trip with a visit to the Khatski Pillar. As soon as you enter the area, it is impossible to miss the pillar. Standing 40 meters high on top of a rock formation are two churches. They can be accessed by an iron ladder which is enclosed. The view is nothing short of breathtaking and the climb is a true adventure.
Bagrati Cathedral/Prometheus Cave – When visiting Chiatura, there is a high chance that you will have to stay in Kutaisi for the night. Therefore, you should integrate your trip with some sightseeing in Kutaisi. The top two places to visit are the Bagrati Cathedral and Prometheus Cave, which can both be accomplished in one day.
The city of Chiatura is part of the Imereti Region, one of the regions with the best local food. Make sure you try Imeretian khachapuri and different vegetables with walnuts.
The Best Time to Visit: May and October.
How to get to there:
Bus or marshukta (minibus). Both leave from the Didube Station (okriba ). Although schedules vary from day to day, there are usually a couple of vehicles leaving each day, the earliest being at 8 am. It takes around 3.5 hours. However, you should not plan on staying in the area since there are no hotels. The two best options are returning to Tbilisi or going to Kutaisi to stay the night.