At Lagodekhi Nature Reserve,lucky visitors may encounter roe deer, wild boar, brown bear, or lynx. But don't worry – a high level of safety and protection is provided by the staff.
The Lagodekhi Protected Areas in the far east of Georgia border Russia and Azerbaijan. Just a few hours from Tbilisi, visitors can touch the moist ground of the mixed forest, feel the humid air near the tall waterfall, detect the sweet scent of blooming Alpine Zone flowers, feel the barrier wind whilst traveling through narrow forest paths on horseback, or meditate near the lake, where crystal-clear water is as calm as the surrounding nature.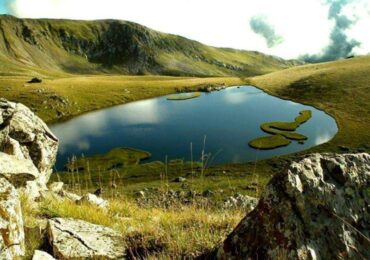 Biologist Ludwik Młokosiewicz understood Lagodekhi's significance, and paid his own personal tribute to it. Based on his works, a group of European biologists concluded the existence of endemic species on the territory northern of the Kakhetian city of Lagodekhi. His enthusiasm played an important role in the establishment of the Lagodekhi Nature Reserve in 1912.
What to see at the Lagodekhi Nature Reserve:
 There are five tourist routes available at the Lagodekhi Protected Areas:
Black Grouse Waterfall –a natural wonder surrounded by evergreen forest. Starting from the Administration Center, the moderate-level pedestrian trail is 9.5km round-trip, with an estimated time of 3-5 hours.
Ninoskhevi Waterfall (Great Waterfall) – 40-meter-high waterfall connected to the Gurgeniani Information Centre by forest trail on which deer and boar may be observed. Moderate level, 5km round-trip, with an estimated time of 4-6 hours.
Machi Fortress – an example of how nature conquered an abandoned piece of civilization. The trip to the 9th century church starts at the Administration Center. A 5-minute car ride toa forest track beginning at the village of Matsimi. The moderate-level pedestrian and horse-riding trail is 10.5km round-trip, with an estimated time of 3-4 hours.
Black Rock Lake – 3-day trip. From the Administration Center, guests travel on horseback through the woods and Alpine Zone landscapes, spend the night at the ranger-shelter and visit the pristine Black Rock Lake. The moderate-level horse-riding trail is 48km round-trip, with an estimated time of 3 days.
Nature Interpretation Path – 600-hundred-meter trail for children, located beside the Information Center.
General Information
Upon the request additional products and services are available for hire:
Tent: 10 GEL
Backpack: 5 GEL
Sleeping Bag: 3 GEL
Camping Mat: 3 GEL
Conference Hall (50 persons): 150 GEL
House Service: 50 GEL
Picnic Table: 15 GEL for adults, 10 GEL for students and children
Camp Site: 5 GEL/person
Best time to visit Lagodekhi Nature Reserve: Late May – Beginning of October.
How to get to Lagodekhi Nature Reserve:
Tbilisi – Lagodekhi (125km)
Lagodekhi City Centre – Lagodekhi Nature Reserve Administration Centre (4km)
Ladokhedi Protected Areas on the maps