For an authentic feel of Georgia, Mtskheta should be one of the first places to visit.
Bursting with history, Mtskheta was one of the first cities in Georgia and is the former capital.
It was one of the first regions to accept Christianity and is therefore regarded as a Holy City by the Orthodox Church.
It is only about 20km from Tbilisi and was listed as a UNESCO World Heritage Site in 1994.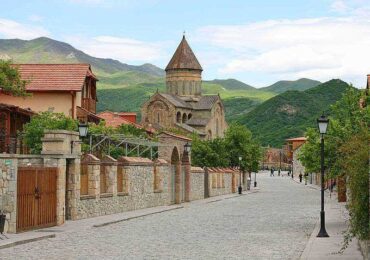 What to see in Mtskheta
Jvari Monastery –often the first place people visit when they set out to discover Mtskheta. The word Jvari means 'cross', and refers to the large wooden cross which was placed on the site after the adoption of Christianity in the area. Built in the 6th century, the monastery stands on top of a hill overlooking the confluence of Mtkvari and Aragvi Rivers. It also gives you a look at Svetitskhoveli Cathedral and the beautiful city of Mtskheta. It should not take long to visit the area and is a great appetizer for the rest of your Mtskheta adventure.
Svetitskhoveli Cathedral – One of the most significant pieces of Christian architecture, the Svetitskoveli ('life-giving column') Cathedral is seen as an inspiration and the symbol of Georgia in many pieces of literature. The original cathedral was built in the 4th century, but was damaged many times. Legend has it that the robe of Christ is buried under the church. Walk around the territory and admire the beautiful inscriptions and ornaments on the outside of the church. Just outside the wallsare some beautiful small streets to wander, small stands with souvenirs and cafes in which to rest and grab a bite.
Armaztsikhe fortress –4km southwest of Mtskheta, it is part of the historical greater Mtskheta and is where many important archeological discoveries have been made. If you hike up the river's watery and rocky path you will stumble upon the remains of a fortress which used to stand proud in defense of its region.
Salobie – A trademark in dining when visiting Mtskheta is Salobie (bean eatery) Around 5km along the road from Mtskheta to Tbilisi, it is a busy place with lots of different rooms and terraces and of course many delicious Georgian dishes, the specialty being Georgian beans (lobio).
Best Time to Visit Mtskheta: Year-round.
How to get to Mtskheta:
Taxi
Marshutka (minibus) from Didube Metro Station
Bus from Didube Metro Station