While the nature, especially the mountains, of Gudauri is beautiful year-round, it can mainly be considered a winter resort. Though smaller than most well-known European ski resorts, and not offering the range of accommodation and restaurants, Gudauri never disappoints. There are multiple slopes for every type of skier (beginner to advanced), as well as activities such as ice sledging and snowmobiling, as well as paragliding.
Instructors are available, with lessons around 45 GEL per hour. Ski rental is also on hand. A full day lift pass costs 40 GEL (10am to 5pm).
After the recent chairlift incident in Gudauri, many have been doubting the safety standards.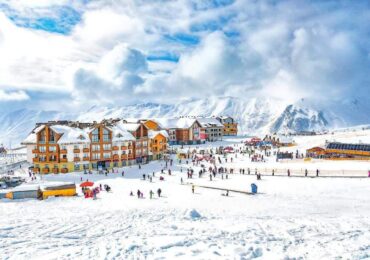 It is important to note that the lift is a high-end Swiss brand, Doppelmayr. The cause was found to be operational error. However, all staff were trained in dealing with unexpected situations and no one was seriously hurt.
Location is an important issue to take into consideration when choosing accommodation. It is best to pay slightly more and choose a hotel or apartment with direct access to the piste. Since the road through the town is an export/import route, traffic can be busy with trucks.  Some hotels a little further away offer shuttle services to the piste.
There are several dining options in Gudauri, offering both international and local cuisines. However, you might want to consider booking, as they can get busy. Make sure you try the khinkali, always a special treat in the mountains.
Where to Venture Outside Gudauri:
If you start feeling restless with only being in Gudauri and would like to venture further afield, Kazbegi is an amazing place. Just 30km away, Kazbegi (Stepansminda) is home to the third-highest mountain in Georgia, at 5,047 meters above sea level. If you are up for a hike, go up to the Gergeti Trinity Church. Alternatively, you can pay 50 GEL for a jeep or horseback tour. The views are nothing short of spectacular. Be sure to check if the road is open, as it can be treacherous in winter.
The best time to visit Gudauri:
From December to March the ski season is open in Gudauri. However, if you are a more of a professional skier you should ask ahead about the condition of the snow and plan in accordance with the weather in order to fully enjoy your trip.
How to get to Gudauri:
The best way to get to Gudauri is to either take a marshukta (minibus), bus, taxi or self-drive. Take into consideration that sometimes in winter roads can become icy and blocked. Check the conditions before departure and have winter tires and/or chains for your car in case of heavy snow.