The city of Gori is the capital of the Shida Kartli Region.
Throughout its history, including the present, it has played an important military role for the country, since it is on the edge of the important military highway connecting eastern and western parts of Georgia.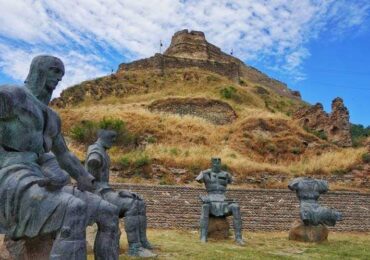 What to see in Gori:
Stalin Museum – The number one reason tourists decide to visit Gori. Opened in 1957, it has not changed much over the years, therefore it is important to note that the featured content mostly shows Stalin as the Soviet Union wanted to portray him and does not pay much attention to the terror he wrought as a dictator. However, it is still an interesting visit if you like history and would like to learn more about the Soviet era and specifically gain insights into Stalin's childhood. The museum is divided into three parts: the house in which Stalin was born and lived his first few years: the main part, which displays memorabilia as well as the famed death mask of Stalin; and the train carriage in which Stalin met with world leaders such as Roosevelt and Churchill.
Gori Fortress – From the 13th century, it is situated on top of a hill and overlooks the whole city. It is the perfect spot to visit if you are looking for a smaller-scale hike and adventure.
Uplistsikhe Cave Town – A journey into the past,  on the left bank of the Mtkvari River, it is only 14km from Gori, so is only about half-an-hour by car. It is one of the oldest settlements of Georgia, which provides you with a window into how people lived in the Iron and Middle Ages. The name translates as Fortress (tsikhe) of the Ruler (upali). Full of rock structures, caves and tunnels, you will need to do some climbing. A Christian church from the 10th century stands at the top of the rocky hill.
There is no need to stay the night in Gori since it is a short drive back to Tbilisi, but there are still many accommodation options. One of the top rated is.
Anna Guesthouse, about 10 mins walk from the Stalin Museum.
Best time to visit Gori: Late spring, summer or early autumn.
How to get to Gori:
Traveling to Gori is not difficult since the distance is relatively short and there is a newly-built highway.
Bus, marshutka (minibus)
Train
Taxi