If you have decided to visit the enchanting region of Svaneti, chances are your trip will start from the city of Mestia, which is the central town of Upper (Zemo) Svaneti.
At 1,500 meters above sea level, you can soon find yourself walking among the clouds. This place has so much to offer. From hiking to horse-riding tours through alpine meadows to skiing, one thing is for sure, this place will keep you moving.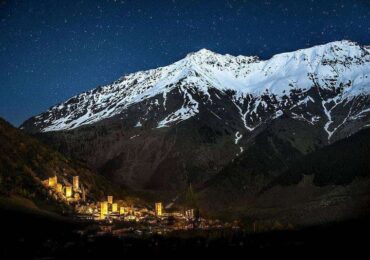 Things to See in Mestia:
The Svanetian towers that dot the landscape – The fortified homes of highland warriors, which took the place of a single fortress, placing responsibility on each family for defense against marauders, or even blood feuds between clans. You can't miss them as you wander the town.
Svaneti Museum of History and Ethnography – The Svan lifestyle is like no other. If you would like to fully understand the culture of the people who live among the beautiful mountains you are trekking, this museum is a must-see. Founded in 1936, it is home to some very interesting and important artifacts from the region.
Chaladi Glacier – A moderately challenging path to hike, the Chaladi Glacier is at a height of 1,850-meters. The track takes only 5 to 6 hours to walk to the glacier. Alternatively, you can also take a taxi for around 80 GEL to get you nearer. If you take a taxi you will start at a bridge, hike through some forest and along a wild river flowing through the glacier. Teh round trip takes about 3 hours. Remember to bring water with you.
Ushguli – Approximately a 3-hour drive from Mestia, it's 2,200-meters above sea level and considered to be the highest settlement in Europe. It is astonishing to trek through the untouched nature and see the authentic culture of the locals. The mountain of Ushba (located in the village) is the most beautiful peak in Georgia and the Caucasus, and is very difficult to hike.
Restaurant Zuruldi – If you are looking for a distinguished place to dine, this is your spot. The highest restaurant in Georgia, Zuruldi offers surreal views of Mount Tetnuldi and the Caucasus Mountains.
Koruldi Lakes – The perfect challenging one-day hike. It is important to be prepared with water and proper hiking shoes. The lakes are small, but like mirrors which reflect the beautiful scenery around. You can also see the amazing Mount Ushba from this point.
Svan Cuisine – A whole different world. Make sure you try Kubadari, Tashmijabi and Svanetian Khachapuri.
Best Time to Visit Mestia: Summer, when hiking is easier, or winter for skiing.
How to Get to Mestia:
It is possible to take a marshrutka (minibus) from Tbilisi, however it will take you about 12 hours.
The best option is to fly. Flights are available from both Tbilisi and Kutaisi. Tickets cost around 65 GEL one-way. Naturally, the weather in Mestia is extremely changeable, so flights are dependent on conditions – it is advisable to have a day or two up your sleeve to cover possible flight changes.