Akhaltsikhe, which translates as "New Castle", is the largest town and capital of the Samtse-Javakheti Region. A river runs through the middle, dividing the new and old parts of the city. While a few years ago it was nothing worth seeing due to its decline during the Soviet period, recent renovations and general development have put it back on the map as a popular tourist destination.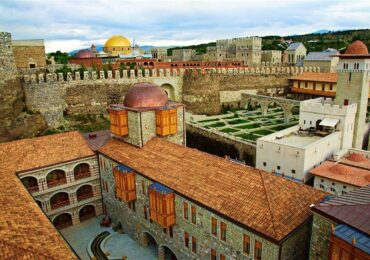 What to see in Akhaltsikhe:
The Rabati Fortress – The old city is home to the ever-popular Rabati Fortress, built in the 9th century, but later rebuilt by the Ottomans .  One of the most important facts about Rabati is that it includes Georgian Orthodox, Armenian Apostolic and Catholic churches. The town takes pride in this symbol of ethnic and religious diversity. However, after being destroyed many times throughout history, it was fully renovated in 2012 and now offers a whole range of things to explore. Such as a park, museum and many fountains.
The entrance fee is minimal and there are onsite restaurants which offer great food. While you can spend time climbing around the fortress, there also many spots to sit and take a relaxing moment. This aspect makes it a great place for both adults and children.
Sapara Monastery – The word Sapara translates as "hidden", and it lives up to the name. You will wonder how anyone managed to build a monastery in such a secluded area. At the peak of a mountain, there is always cooler air and beautiful scenery and lovely gardens. Take a picnic to fully enjoy your presence in the beautiful nature surrounding the monastery. The road to it is newly-renovated, and it's about a half-hour drive from Akhlatsikhe.
Abastumani Observatory – Not part of Akhaltsikhe, but worth visiting if you are in the area, the Abastumani Observatory is an attraction you don't want to miss. It is about an hour's drive from Akhaltsikhe. An enclosed territory high among pine trees and nature. Visit the Observatory on a clear night and see stars and planets.
Vardzia – about 60km from Akhaltsikhe, this ancient cave city – once home to 30,000 inhabitants – is definitely worth a visit. There's a kind of spirituality to the very canyon, and the monastery and cathedral in the cave complex are still operational today.
Best time to visit Akhaltsikhe: Late spring, summer or early autumn.
How to get to Akhaltsikhe:
Akhaltsikhe is about 4-hours' drive from Tbilisi, however the easiest way to get there is to take the train until the Borjomi Railway station and continue the rest of the route by taxi.
You should consider staying at least 2 nights, since walking around Rabati and later visiting Sapara and other surrounding tourist attractions are full-day trips.
Another option is to use our private car transfer service
Georgia tours including Akhaltsikhe: