If you are looking for a quick getaway from Tbilisi, Ananuri is perfect for its proximity to Tbilisi, beautiful views and amazing historical monuments.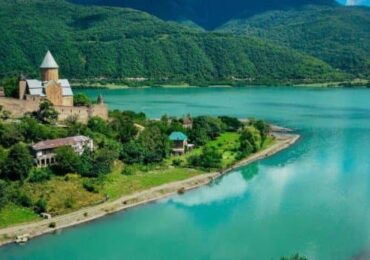 What to see in Ananuri:
Ananuri Complex – This beautiful area is approximately an hour's drive from the city and provides some beautiful scenery blended with historical monuments, specifically the Ananuri complex – an old castle ruin incorporating two churches. It was built in the 13th century and is on the UNESCO tentative list. In both churches you can see distinctive frescoes, while the Assumption Church even shows the Last Judgement.
Zhinvali Reservior – Apart from the complex itself, one of the best parts is the view on the sparkling blue green water of the Zhinvali Reservior, which supplies Tbilisi with its water. You can wander down to the edge of the dam to fully enjoy its beauty, although swimming is not recommended.
While Ananuri holds a lot of history, it should not take much time to visit. It is generally a same-day trip, since there is no place (and no need) to stay overnight. In fact it is best to include it as a stop on a longer trip, such as to Kazbegi. Or stop on your way to Ananuri and see Jvari and Mtskheta, since they are both detours from the same road.
Georgian Military Highway – Keep in mind that the road to Ananuriis the Georgian Military Highway, a major route from Georgia to Russia and known as one of the most beautiful mountainous roads.
Gudauri – If you are up to it, it is about another hour to the ski resort of Gudauri, where you can fully appreciate the majestic mountains of the Caucasus.
Since you are in the Tianeti Region, it is a necessity to dine with the ever popular mtiuluri khinkali. You can try driving a little further up from Ananuri to the small town of Pasanauri in order to taste authentic food from the region. Or you can take a picnic and go down to the bank of the Aragvi River.
A more adventurous option for enjoying your trip to Ananuri is a rafting tour. Many rafting clubs, such as "Jomardi" offer tours on the white waters of the Aragvi. The tours start in nearby villages and end just as the river leads into the Zhinvali Dam. Since the tour is rated "easy", it is something even first-time rafters and older children can try.
How to get to Ananuri:
You can hop on a marshrutka, take a bus, hire a cab or even rent a car.
It might not take you long to see everything,  but a visit to Ananuri  is definitely worthwhile, and incorporating it as a stop on a larger tour is probably the best way to plan the trip.