Scenery and monuments abound in Georgia, so why not see something different? The place where "everything else took its start", 85km southwest of Tbilisi, in the region of Kvemo Kartli.
Dmanisi is the area where the oldest human skull to be discovered in Europe (dating back 1.81 million years) was found.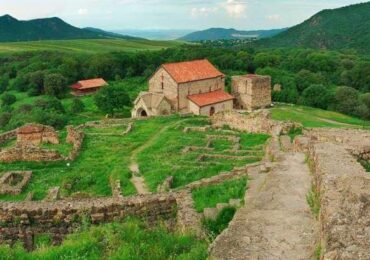 What to see in Dmanisi:
Dmanisi Archeological Museum – Besides viewing the archeological findings, you can see the dwellings in which they were found and sometimes even watch the archeologists going about their work. It is amazing to see to uncovering of a whole city buried beneath another city. The site of Dmanisi is also home to a fortress and several religious structures.Entry is just 3 GEL for adults and the museum works every day except for Mondays. Tours in multiple languages are offered.
Bolnisi Cathedral – In order to have a full experience of the significance of the region, it is important to make a stop at the Bolnisi Cathedral – the oldest historical monument in the country (dating back to 478–493 AD). It is also home to the oldest Georgian writings found in the country.
Tsughrughasheni Monastery – If you continue your journey on the right bank of Bolnisistskali River, about 2 km from the Bolnisi Cathedral, you will arrive at the Tsughrughasheni Monastery. This monastery has beautiful and distinguished dome architecture.
Poladauri Fortress – south of the Tsughrughasheni Monastery, you will pass a small village and bridge and spot a hill with a fortress on top, which is worth a climb to.
Best time to visit Dmanisi: Between May and October when the museum is open to the public.
How to get to Dmanisi:
While there might be some options for marshrutkas (minibuses), most don't abide by a reliable schedule.
Better to either rent a car or take a taxi.