Bolnisi Sioni is arguably one of the most important churches to see in Georgia. Just 70km from Tbilisi, it is roughly an hour's drive to the beautiful village of Kvemo-Bolnisi, where the cathedral is located. The Bolnisi-Dmanisi area of Georgia holds huge international significance, as well as local, since it has helped form new theories on where humans originated from as well as the development of local language.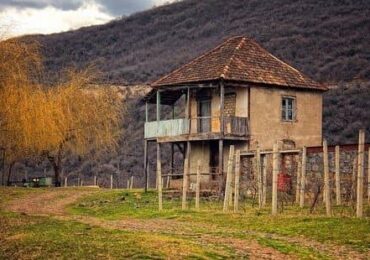 What to see at Bolnisi Sioni:
Bolnisi Cathedral – A true window into the past, this amazing cathedral is the oldest architectural monument in the country. It has survived the test of time and continues to function today. The church building dates back to 478–493 AD, while the Georgian inscriptions you will find on the walls are from 494 AD, also making them the oldest in the country.
Tsughrughasheni Monastery – In the shade of the Bolnisi Cathedral, the monastery does not get the credit it deserves. It is about 2km from the cathedral on the right bank of Bolnisistskali River.
Poladauri Fortress – If you are in the spirit of fully engaging in the beauty the area has to offer, continuing south from the Tsughrughasheni Monastery, you will pass a small village and bridge where you will spot the fortress on the top of a hill. There are a couple of tracks leading to the top.
Dmanisi/ Dmanisi Archeological Museum – It's an additional 45 minutes to travel to Dmanisi, but a trip to Bolnisi cannot be considered complete without visiting Dmanisi. The discoveries made in the area (namely a human skull) date back 1.81 million years. These exponents can be seen locally at the Dmanisi Archeological Museum. In addition to the exponents you will be able to walk among the excavation sites and even watch archeologists carrying out their work.
The museum is open from Tuesday–Sunday 10am-5pm and the entrance fee is only 3 GEL.
Best time to visit Bolnisi Sioni: May to October.
The Dmanisi Museum is only open to the public in this period.
How to get to Bolnisi Sioni:
Getting from Tbilisi to Sioni might not be difficult distance-wise, but since public transportation is not well-established in this direction, it is best to rent a car or take a taxi. It is also important to keep into mind that public transport in the region itself will probably be scarce, therefore you will have to depend on your own transport or plan on doing substantial walking.