Although Stepantsminda (frequently referred to as Kazbegi) is a small town, its nature is fierce and mighty.
Located among the great mountains of the Caucasus, Stepantsminda is one of the most frequently-visited tourist areas in Georgia and the perfect spot to hike and discover the beautiful nature on offer.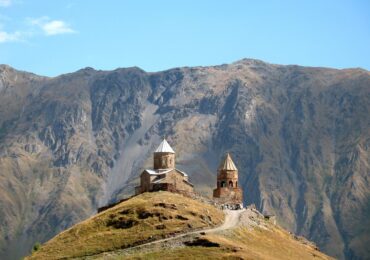 What to see in Stepantsminda:
Gergeti Trinity Church –14th-century church high above the village, but still under the amazing Mount Kazbek. You can hike(about 2 hours) or hire a 4WD for around 60 GEL. The hike is not simple and requires some physical fitness, good footwear and appropriate clothing for the season (it can be cool in summer and the weather can change quickly). Once at the top it is like being among the clouds. Make sure to take water, since there will be no ways of obtaining some during the walk.
Gveleti waterfall –about 7 km from Stepantsminda towards the Russian border. It is possible to hike, however most people drive. A 4WD is necessary, since you will be driving off-road until you reach the waterfall once you've turned off the main road.
Mount Kazbek –  The origin of Stepantsminda's former name, Kazbegi. The third-highest peak in Georgia, translated as "Glacier Peak". While stunningly beautiful, it is a very difficult climb and, in many cases, dangerous – especially due to ever-changing weather conditions.
Ananuri – Kazbegi is approximately a 3-hour drive from Tbilisi, with lots of bends and twists. You might want to stop on the way for a break while also discovering some beautiful historic monuments. Ananuri Fortress is perfect. Once a strategic area for defending against enemies, today it serves as a church and monastery, overlooks Zhinvali Dam. It should not take you more than 20 minutes to walk around the complex and then head on your way towards Stepantsminda.
Georgian Military Road – The major route through the Caucasus from Georgia to Russia is considered one of the most beautiful scenic roads.
Best Time to Visit Stepantsminda: May-October.
How to Get to Stepantsminda:
If you are only planning on seeing the nature locally it is fine to take public transport. However, if you would like to venture a bit to a place such as Gveleti waterfall, it is beneficial to rent a car.
Car (3 hours)
Taxi
Marshrutka (minibus) from Didube Station