Since Joseph Stalin was leader of the Soviet Union, it is a frequent misconception that he was born the country of Russia. However, the truth is that he was an ethnic Georgian, born and raised in the city of Gori. For those interested in history, and specifically the USSR era, a visit the Stalin Museum in Gori is worth the trip.
The museum first opened in 1957 and has not seen much of an update or improvement since. In one sense, it is a perfectly authentic representation of the Soviet era, with the decor, installations and even the tour guides reflecting the Soviet years. The character of Stalin is portrayed in the light which the USSR wished to convey and is very far from the reality of the horrors which went on through his leadership. You won't find mention of famines or terrors here, but it's an interesting insight into the communist depiction of the man born Joseph Djugashvili.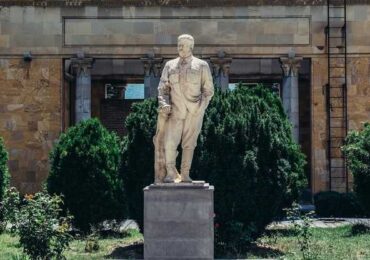 The museum tour can be divided into three parts:
Stalin's house – A replica of the small wooden hut in which Stalin was born in 1878 and spent his first couple of years. It is also the building where his father, a local shoemaker, rented a room to maintain a workshop.
Stalin Museum – The main exhibition where the Stalin memorabilia is displayed. This includes many of his personal items, as well documents, photographs, etc. The display concludes with the death mask of Stalin.
Stalin's personal railway carriage – The armor-plated carriage which Stalin used from 1941 onwards. He used it multiple times to conduct meetings with other leaders of the era such as Churchill and Roosevelt. (They may or may not tell you that he was afraid of flying.)
Access to the Stalin Museum (accompanied by a guide) costs 15 GEL; free for children under 6.
The visit to the Stalin museum does not take long, since it is fairly small. Therefore, it is a good idea to plan additional activities for the day in order to get a better sense of the area.
What to see in Gori:
Uplistsikhe Cave Town – A word-for-word translation of Uplistsikhe is "ruler" and "fortress", so the name itself tells you what the purpose of the caves were. They were the "fortress of the ruler". About 14 km from Gori, the drive to Uplistsikhe should not take more than half an hour, however visiting the location itself will probably take a couple hours. There is a bit of climbing to do, so be prepared with fitness and footwear. The caves are thought to have been inhabited as early as around 1,000 BC.
Best time to visit Gori: Late spring, summer or early autumn.
How to get to Gori:
Bus
Marshutka (minibus)
Train
Taxi. It's about 1 hour from Tbilisi by car.