Tusheti is a well-hidden and untouched treasure.
It is filled with unique cultural monuments and astounding mountain nature.
However, Tusheti is also one of the most remote areas in Georgia and there is only one road in.
The Abano Pass, at almost 3000 meters above sea level, is considered one of the most dangerous roads in the world.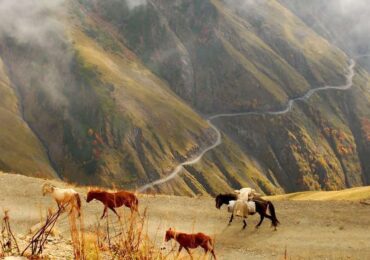 What to see:
Tusheti National Park – Established in 1981, it ranges from 900-4800 meters in altitude and is one of the highest parks in Europe. It boasts spectacular views, along with a variety of species of birds, animals and plants. The visitor center is in Lower Omalo, where most people begin their tour of Tusheti. The park has marked trails which can be trekked or services for cars and horse-riding are offered. Camping is also permitted in the area. There are numerous paths and treks to hike in Tusheti. It is popular to travel from one village to another by hiking. A good way to plan your route is to call the Tusheti National Park ahead of time and have them give you extensive information and choices.
Omalo – The largest village in Tusheti and the starting place for most tourists, since it is closest to the road. It is very open and hospitable to tourists and offers many guesthouses and restaurants. One of the main attractions of Omalo is its old defense towers, which are called keseloebi.
Diklo Village Fortress –Can be done as a one-day hike, it is considered to be very romantic, since you have to walk through the old town of Shenako and can detour to a lone tower, regarded as the tower of love.
Dartlo – Whether you decide to hike or drive, you will not regret the trip. The views on the way are some of the best. Just 12 km from Omalo, Dartlo offers some amazing defense towers which are still well-maintained until this day. It is possible to stay at a guesthouse in Dartlo. Therefore, it is a good place a base camp and continue the next day.
Best Time to Visit Tusheti: The road to Tusheti is only accessible in summer and early fall.
How to Get to Tusheti:
Unfortunately there is no way of getting to Tusheti through public transport. The roads are rough and hazardous, therefore a 4WD is required.
From Tbilisi you can go to Kvemo Alavani Village in a marshutka (minibus) and then hire a car locally. Hiring a driver/guide in Tbilisi to take care of your trip is a more expensive, but less labor-intensive option.