In the Tetri Tskaro region (70km from Tbilisi), the Samshvilde archaeological site is one of the most ancient and impressive ruins in the Caucasus. The site includes a whole range of different bits and pieces of an old town, such as churches, a cemetery, caves, a bridge, reservoir and fortress. Although a great deal of it has been destroyed, it is enough to give you a walk into the past.
The town of Samshvilde was a strategic center and had a military purpose. In fact, the name means "place where bows are kept". A large part of the city was built between the 5th and 9th centuries (Middle Ages), however it played an important role well up to the 17th century.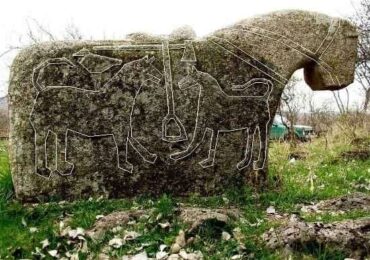 What to see in Samshvilde:
German Cemetery – The graveyard, a Lutheran church and old German wine cellar are probably the first things you will pass once you enter the archaeological site. Each tombstone is in the shape of a certain domestic animal, which is representative of that person's role in the community.
Sioni Temple – The Sioni temple is one of the most important parts of the Samshvilde site. It is said to have been built in the 5th century and contains many important inscriptions in ancient Georgian writing.
Khrami Canyon – If you walk all the way across the ruins you will find yourself on the edge of the Khrami Canyon, with some amazing views on offer. It is also the place where two rivers meet.
Tetri Tskaro – Check out the local museum, where you will be able to learn more about the region, receive some information about Samshvilde and view impressive artifacts and pieces of history that were found under the land you are about to discover. A brief stop and very cheap.
The Best Time to Visit: Late spring or early autumn.
In summer there is an increased risk of snakes, so if you do decide to go during this season it is necessary to wear appropriate clothing such as long pants and closed hiking boots.
How to Get to Samshvilde:
While it is possible to get to Tetri Tskaro from Tbilisi by marshrutka (minibus) or taxi, it is advisable to rent a car or take a taxi, since the 2km road from Tetri Tskaro to Samshvilde is not in good condition and local transportation is not reliable. The infrastructure in Samshvilde is not very welcoming for tourists, as the site has been abandoned and only archaeological digs are being conducted in the area.