Adjara, a small chunk of land, but with so much variety. From miles of seashore, to the ever-developing and vibrant city life in Batumi, as well as beautiful mountainous areas for hiking, this corner of Georgia has much to offer.
Over recent years, Adjara has been attracting more and more tourists, mainly to its capital city, Batumi. Since Batumi is a port city, it might not be the best option for swimming, but it is quite handy to places like Gonio, Kobuleti and Shekvetili. One of the best parts of Batumi for accommodation is the old/historic part of the city. The buildings are charming and there are many great cafes and restaurants scattered about.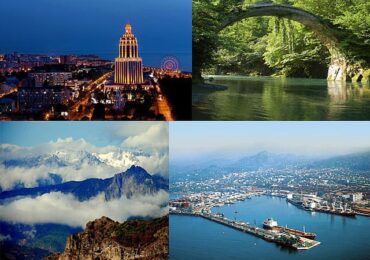 What to See in Adjara:
Batumi Piazza –  Charmingly tucked in behind some buildings, the courtyard offers live music and dancing, and many cafes/restaurants with delicious food.
Batumi Boulevard – A promenade along the seashore can lead you towards the large Ferris wheel and a look over the city at night. Also make sure to see the Ali and Nino statue which symbolizes love and friendship between different nationalities. Nearby you will notice a large tower with the Georgian alphabet encrypted on it. You can go up this tower which is about 130 meters high to get an amazing view of the city and dine in its restaurant.
Batumi Botanical Garden – Miles paths among flora from all over the world which lead down to the water of Mtsvane Kontskhi, where you can take a quick dip to cool down from all the walking.
Batumi Dolphinarium – Helps rescue and care for many dolphins each year. They also host shows and swimming with the dolphins is also an option. The best part is that they do a great job caring for the animals.
If you are up to the challenge of discovering the true beauty of Adjara, plan a tour of one of the three Khulo, Kedi and Shuakhevi, beautiful municipalities of mountainous Adjara.
To rightfully top off all your adventures, make sure that you taste Adjarian khachapuri  becoming known around the world as a "cheese boat". For dessert, try a traditional Adjarian baklava.
Best time to visit Batumi: June- September.
How to Get to Adjara:
Train is the most comfortable and punctual, with options for overnight and day rides. However, make sure that you buy your tickets quickly since they are very hard to purchase on short notice during the summer season.
You can also consider taking a bus such as Metro Georgia.
Flying is an option, too.