Meaning 'hill', the city of Zugdidi and its surroundings have a lot to offer.
History and natural beauty abound, and the town is an excellent staging point for touring.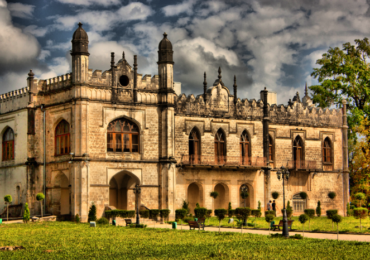 What to see in and around Zugdidi:
Dadiani Palace – The Dadiani family was an aristocratic family which had very close relations with Napoleon Bonaparte. Therefore, many items in the museum are connected with France and, more specifically, Bonaparte, such as his death mask, a private letter and other artifacts. The museum is home to more than 41,000 items. One of the best parts is the botanical garden, which was created at the wish of Princess Dadiani during the 19th century and is home to many distinctive and rare plants.
Martvili Canyon – Although quite a distance from Zugdidi, Martvili Canyon is a must-see. It can be done as a day trip from Zugdidi and will take about an hour-and-a-half each way. Entry is around 15 GEL for the walkways around the cascades, and a still-water boat trip between the walls is an additional 13 GEL.
Nokalakevi – After Martvili Canyon, you can stop at the Nokalakevi Fortress on the way back to Zugdidi. An archeological site dating back to the 4-6th centuries, the area is a historically important and strategic area for guarding Samegrelo. It overlooks the Tekhuri River and features a museum.
Tobavarchkhili Lake – If you are looking to wander beyond Zugdidi and into the wild of the beautiful region of Samegrelo, a trek through the mountains of Egrisi is for you. These are also the mountains which divide Svaneti from Samegrelo. The hike is by no means simple and takes up to 5 days to do a thorough tour. It leads you through beautiful mountain trails, past lakes and waterfalls.
Megrelian Cuisine – All Megrelians are proud of their distinctive and delicious local dishes. Make sure you try elarji, gebzhalia, Megrelian khachapuri and kharcho.
Best Time to Visit: Summer.
How to Get There:
Bus or marshrutka (minibus).
The most efficient, safe and popular way is the train, which goes directly from Tbilisi to Zugdidi. You are welcome to use our Tbilisi-Zugdidi train ticket reservation service.
Private car transfer service is also available