At 2,200-meters above sea level, Ushguli is the highest settlement in Europe and has played an important strategic role throughout the history of Georgia. It is known for its Svanetian towers, which were used for protection against enemies, as well as Mount Ushba, one of the 10 highest peaks of the Caucasus Mountain range and a UNESCO World Heritage Site.
Since more and more people are visiting Ushguli, finding a place to stay overnight is no problem. The infrastructure is slowly developing to meet tourist demand and a couple of guesthouses and cafes are operational in the area.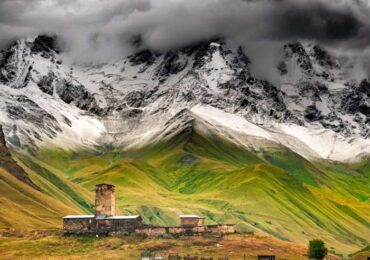 What to see:
Ushba – One of the most beautiful peaks in the Caucasus, it is astonishing to trek through the untouched nature and see the authentic culture of the locals. It is possible to take a tour on horses.
Mestia – It is advisable to start your trip to Svaneti from Mestia. It is 1,500 meters (4,921 feet) above sea level and has numerous beautiful hiking paths, as well as a newly-renovated town center and an amazing museum where you can learn about Svan culture. There are also numerous restaurants to try the local cuisine and a ski resort.
Svaneti Museum of History and Ethnography – When in Mestia, make sure you visit the Svaneti Museum of History and Ethnography in order to get a good understanding of the local culture and its historical monuments as well as the nature.
Svan Cuisine – Make sure you taste the local dish Kubdari (meat pie) and Svanetian khachapuri. One of the best places to get food and a fabulous view is the Restaurant Zuruldi.
The Best Time to Visit: Winter or summer, but if you are only planning on visiting Ushguli, it is probably better to plan for the summer because the road from Mestia to Ushguli can be dangerous in winter.
How to Get There:
You must first go to Mestia, the best way is to fly from either Tbilisi or Kutaisi, then take a taxi to Ushguli.