While Poti might not be an up-front tourist attraction, many are still drawn to seeing the port city due to its beauty and authenticity.
About 340km from Tbilisi, the city is one of the most important ports on the Black Sea, as well as being surrounded by some amazing nature.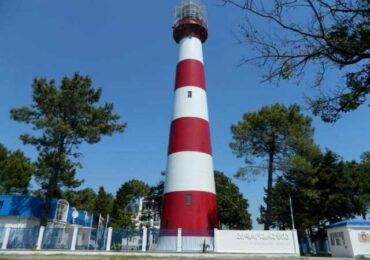 What to See in Poti:
Poti Museum of Colchian Culture – Poti is very proud of its rich local culture and history. The museum is home to archaeological discoveries made in Poti and the historical Kolkheti region of Georgia. These include artifacts dating back 3,000 BC, as well as a special section just for the Argonauts. According to Greek mythology, the Argonauts were a group of heroes led by Jason on a quest to find the Golden Fleece. Legend has it that they started their journey from Poti.
Poti Lighthouse – The symbol of the city. A large cast iron structure which was brought from England to Georgia by steamship, it overlooks the sea as well as the neighboring mountains. It is worth climbing the 152 steps to the top, up to the lantern room and taking in the beautiful scenery. However, make sure to call ahead and ask if it is open to the public. Tours can be organized in Georgian, Russian and English.
Paliastomi Lake – Poti is right next to the Kolkheti National Park, which is home to the beautiful Paliastomi Lake. It is a tranquil place with birdlife and fishing, and the nature is untouched. With cows grazing nearby and local fisherman trying their luck. You can  ask for a boat trip around the lake at the Kolkheti National Park office.
Magnetic Sand in Ureki – One of the most distinctive parts of the Black Sea coast is the magnetic sand of Ureki. This sand is known to be beneficial to the health of the cardiovascular, nervous, respiratory and skeletal systems. If the weather is hot, make sure you take the opportunity to lie on the beach at Ureki and jump in the water.
Batumi – A trip to Adjara should always be complemented with a stop in Batumi. It's full of tourist attractions such as the alphabet tower, Ferris wheel, numerous restaurants, parks, dolphinarium and more. In fact, it is probably best to plan your overnight stay in Batumi and travel to Poti during the day.
Best Time to Visit: Summer.
How to Get to Poti:
Train,
bus or marshrutka (minibus)
car