A ski resort during the winter and family favorite mountain getaway in the summer, Bakuriani is loved by so many. Located in the Borjomi district, it is about a 2.5-hour drive from Tbilisi.
This mountain resort is a great option if you're looking for a more relaxing vacation with beautiful scenery, but also want options for some physical activity during your holiday. It is especially popular to visit with kids, since there are many parks and numerous health benefits of being in a forest landscape.
In winter it's a great place to head just as soon as the snow starts to fall. From December through March, Bakuriani offers some great ski trails.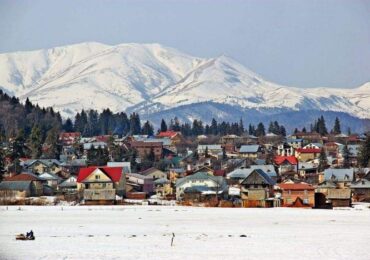 Starting from simple ones for beginners as young as 4 to difficult and more extreme routes for experienced skiers, there are pistes for everyone to enjoy. Instructors are also available if you need to fine tune your skills.
In summer, the cooler Alpine air offers much-needed relief from the stifling heat of the city. The ski slopes turn into lush green pastures, great for healthy walks and horse riding.
There are many options for accommodation, from hotels to family guesthouses to Airbnb, with and without meals included. Prices start from around 70 GEL per day, and you will surely find something that meets your needs. If you are visiting with children, you might want to stay at a hotel complex such as Mgzavrebi, next to a small ski slope and many other forms of entertainment, as well as dining options and stores nearby. It is important to note that the sidewalks are not in the best shape in winter due to icing,although you can rent a stroller with skis on the wheels. Winter equipment such as skis and sleds can be rented at the base of all the pistes.
What to see in Bakuriani:
Didveli – An amazing intermediate ski run, as well as a beautiful place to visit in the summer. Among other entertainment, it offers a year-round toboggan track-ride, as well as a new movie theater and bike route.
Joyland – If you have little ones, head to the "city center" and visit Joyland. This enclosed park costs only 5 GEL per person and offers a whole day of fun. A little further is the beloved Amirani Park where you can rest under the shade of pine trees in summer.
The "Kukushka" – Winter or summer, no visit to Bakuriani is complete without taking a trip on the Borjomi-Bakuriani railway "Kukushka". Hop on the train for a slow tour through the beautiful forest. Once in Borjomi, stroll through Borjomi Central Park or even take a short hike in the Borjomi-Kharagauli National Park. Take into consideration that this will be an all-day adventure. While the distance from Bakuriani to Borjomi is about a half hour drive, the train takes 3 hours. You might want to take the train one-way and take a cab back to Bakuriani in the evening.
Best time to visit Bakuriani: December-March; June-August.
How to get to Bakuriani:
Car (2.5 hours)
Taxi
Bus
Marshrutka (minibus)