Green Georgia small group tour
2024
GEORGIA | 12 Days
Green Georgia small group tour's 12-day program is a result of our ongoing efforts to make all our travel options eco-friendly. It is based on a responsible travel concept. And combines the unique Georgian culture, rich history and natural beauty with support for local communities' sustainable development. Family-run guesthouses and small hotels, private vineyards and farms, local artisans and inhabitants of remote protected areas — these are the small enterprises and individuals that will benefit from your travel.
Accommodation Description
Standard accommodation is provided in comfortable small private hotels, or local family-run guesthouses based on Double or Twin room occupancy, breakfast included.
Single travelers requesting a separate room are subject to additional Single supplement charge. Please kindly add this information in comments section of the tour booking form.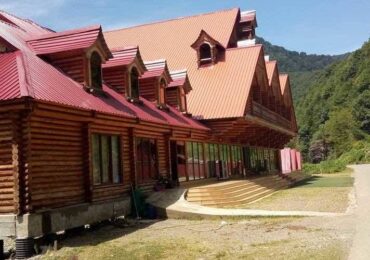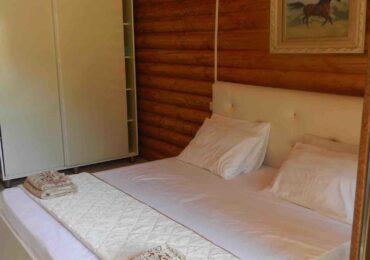 | | | |
| --- | --- | --- |
| Start Date | End Date | Tour Status |
| June 23 | July 4 | Completed |
| July 14 | July 25 | Completed |
| August 4 | August 15 | Completed |
| August 18 | August 29 | Completed |
| September 8 | September 19 | Completed |
| September 15 | September 26 | Completed |
| October 6 | October 17 | Completed |
| October 20 | October 31 | 12 places left |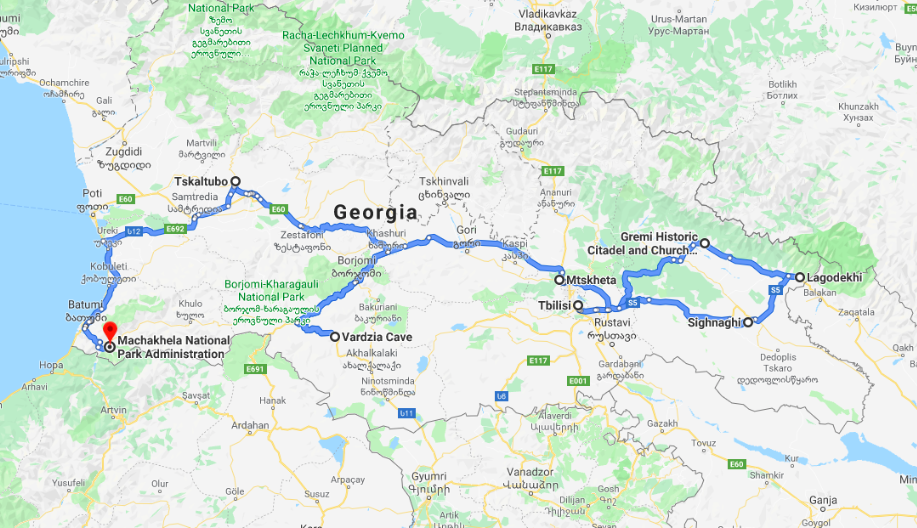 What to expect
The tour itinerary comprises travels to different parts of Georgia. You will have a chance to see all of its versatile natural charms, as well as learn about local culture, traditions, and of course the cuisine. A wine-producing valley, nature reserves and protected areas, mountain rivers and canyons, deep green forests, ancient cave towns, a medieval bridge and real dinosaur footprints — this is all just a small peek into what awaits you on this Georgia tour.
This is an all-inclusive tour package. And if what you're looking for is farm-to-table organic food with minimal carbon footprint and zero food miles, you've come to the right place. Most of the lunch and dinner locations in the rural areas that we have selected for this Georgia tour are exactly like this. And hosts are equally down-to-earth. They're very much looking forward to share what they have with travelers.
Small group escorted tour
This is a small group tour of up to 12 travelers only. This way our guests can save on their travel budget, as some of the costs are shared. And the limited size of a group will still provide you with the feeling of intimate and cozy travel experience. We run this tour in eco-friendly vehicles and strive to make it as plastic-free as possible 
Green Georgia small group tour FAQ
What type of vehicles are used for this tour?
Vehicles used on Green Georgia small group tour vary depending on a final number of travelers on each particular journey. Please refer to the information below to see the vehicles examples:
Up to 2 travelers – standard sedan type car is reserved (i.e. Toyota Camry, Toyota Prius, Mercedes Benz C/E class, or similar)
Up to 5 passengers – mini van type car is reserved (i.e. Mercedes Benz Vito, or similar)
Up to 8 passengers – van type car is reserved (i.e. Mercedes Benz Sprinter, or similar)
All our vehicles are air-conditioned, equipped with mineral water and tissues, and either hybrid powered or use modern eco friendly exhaust system.
Does accommodation have an air-conditioned rooms?
Most of our accommodation options for this tour have rooms with air-conditioning installed. Some of the remote guesthouses may not have air-conditioning but their location provides natural conditions for cool fresh air.
What are the meal options included in the tour?
Green Georgia small group tour is an all-inclusive travel package, which includes full-board meals. Meal options are organic, mostly farm-to-table locally produced food. All meals are pre-ordered and vary depending on location, region visited, and time of the year. Vegetarian options are also available. Our travelers have a chance to indicate their meal preferences at a later stage of the tour booking process.
Does this tour involves a significant amount of walking?
The tour program involves some walking. Consider bringing comfortable footwear for this journey.
In what case am I required to pay Single supplement?
If you're a solo traveler who want to stay in a Single room during the trip, you would be required to pay Single supplement for this tour.
What if I want to share the room with other solo traveler?
We always do our best to meet your travel requirements. If on the dates chosen there will also be a single traveler who would want to share the room, we will definitely be offering you this option.
What if I'm the only person who booked the tour? Will it still be on?
Our small group tours are all of guaranteed departure. Even if there is only one traveler who have signed up on it – the tour will still be commenced as planned.
Tour Reviews
The Green Georgia small group tour is excellent!
It has a nice mix of the usual spots in Georgia such as Tbilisi and Batumi along with several off the beaten path spots such as the Machakhela Protected Areas. My partner called Geotrend manager on the phone several times and asked extensive questions prior to committing to this tour… Continue reading
By Katie Leigh on TripAdvisor
I would highly recommend this tour.
I was looking for a tour that picked me up at the airport, took me around the country, and dropped me back at the airport. This does that. The countryside is beautiful. If you are looking for an English tour I'd recommend… Continue reading
By Letitia Ryan on TripAdvisor
Tour price includes:
All transfers and transportation throughout the tour
Accommodation in family run guesthouses and small local hotels (on Double or Twin room sharing basis), breakfast included
Full board meals (lunches and dinners)
English speaking guide to accompany the group (on Days 2 through to 11)
All entrance tickets on sites and tour attractions as per program
Wine tastings as per program
All activities mentioned in the program (like, for instance, boat ride in Martvili canyon)
Batumi-Tbilisi train ticket (2nd class)
Responsible Travel and Give Back
We run this tour according to our responsible travel policy: on eco-friendly vehicles, strive to make it as plastic-free as possible, and provide all our guests with free ecological bamboo toothbrushes. So you can literally forget your toothbrush at home
By purchasing this tour, you contribute to the sustainable development of a number of Georgian rural communities and villages.
And last, but not least: from every purchase of this Georgia tour we donate one tree on your behalf, planted in the Ajameti Protected Areas of Georgia. You will get an official e-certificate acknowledging your participation in rehabilitation process of Georgian Oak.
Current tour impact
TRANSPORT: We strive to minimize negative impact vehicles make when visiting local nature sites, and rural communities, especially in most remote areas. The longest non-stop distance of this particular holiday is covered on train. Other journeys are made on either low emission hybrid-powered engines, or on vehicles with low emission modern exhaust systems. Choice of the vehicle depends on final number of travelers.
SUPPLIERS: We only work with local suppliers in Georgia. When choosing accommodation for our tours we pay extra attention to the way they treat local environment, use water, save energy, and what is their recycle practice. As most of them are family run guesthouses or small private hotels they do their best according to their abilities and available options. When choosing places for our travelers to eat we select only local farms that provide their own produce, or small private cafes that also use locally grown vegetables, fruits, spices and products of their communities' farms. In big cities like Tbilisi or Batumi we favor restaurants that prefer local markets for their kitchens.
WASTE: We run "No single-use plastic" initiative on all of our Georgia tours. And this particular journey is no exception. We offer our guests to contribute to reduction of pollution caused by single-use plastic, when in Georgia, by exchanging their own plastic toothbrushes onto our own – bamboo-made ones. And, we provide every one of our travelers with personalized reusable water bottle.
FRIENDS & NEIGHBOURS: As a wine producing country Georgia is a home to numerous wine entrepreneurs of different scale. We've hand-picked three small private wineries for this holiday that in our opinion will not only show you all the diversity of locally grown vines, but also in return will provide them with a chance to grow further and continue producing best examples of local wine.
Once flourishing tea-making industry in Georgia was almost completely destroyed after the collapse of the Soviet Union. And it is only because of people like our friend Lika Megreladze Georgian tea is now again on the rise. Although on the local market only, we believe that by taking international travelers to her small tea plantation, in the far West of the country, we are able to help her, and other local tea enthusiasts, promote this amazing organic drink to the World.
Sustainability of farming activities is also a great deal in modern Georgia. That is why one day local farm trip is also included into this holiday. We have chosen this particular farm in Atskuri village because Gaga Mumladze, farm owner, shares our ideas of responsible travel. And it is his farm we would like to benefit allowing him to grow and help his own village develop.
A FAIR DEAL: Our local guides and drivers who work on this holiday receive a wage that is higher of an average standard guide and driver fee in Georgia. First of all, this is an extensive two-week tour; and secondly, we believe in fair compensation and expect best professional service from our local partners in return. In addition to this our guides and drivers undergo free trainings in the principles of responsible travel, so they are empowered and can communicate this to our travelers.
See other similar tour options