Interested in a fun fact? If you are planning on visiting the Sataplia Nature Reserve, you're thinking about walking the slopes of an extinct volcano, Mount Sataplia. This reserve is in the Tskaltubo Municipality, Imereti Region, about 10km from the city of Kutaisi. Apart from its beautiful nature and numerous caves, the area gained tourist popularity when dinosaur footprints were discovered in the area.
The reserve is well-maintained, with easily-accessible pedestrian tourist routes (suitable for children) and brightly-lit caves, as well as well-trained tour guides.
Sataplia means 'Place of Honey' and is so named due to the wild bees which can be seen along your tour route – from a safe distance, of course!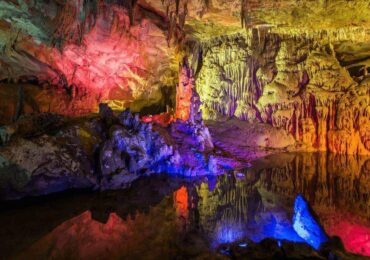 What to see in Sataplia:
The dinosaur footprints – as you start your walk, you will pass the dinosaur footprints and be able to get an up-close look.
The caves – the cave is smaller in size compared to the nearby Prometheus Cave; however, it does not disappoint. It takes around one hour to complete the trail. You have the option of walking around the reserve and caves at your own pace or following a group tour guide, with services offered in Georgian, English and Russian.
After passing through the cave, you will encounter a glass panoramic construction which gives you a beautiful view of the city. Near this area there is also a café, where you can stop to rest and grab a bite.
The Best Time to Visit Sataplia:
The cave is open for tourists year-round. However, you will best enjoy your trip if the weather is warm and dry.
Therefore, it is best to plan your trip for summer/early fall.
How to get to Sataplia:
From Kutaisi, it is most convenient to take a taxi from the town square, which will cost around 15 GEL.