St. George Temple, or the Kashveti Church, is a Georgian Orthodox church in central Tbilisi, across from the Parliament building on Rustaveli Avenue.
One of the newer churches, Kashveti was built between 1904 and 1910 and the designs are based on the medieval Samtavisi Cathedral, but its roots go back all the way to the 6th century.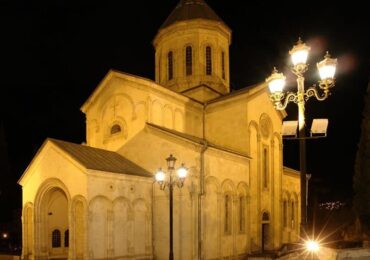 Meaning and history:
The name "Kashveti" comes from the combination of two Georgian words, "kva" – meaning stone/rock and "shva", to give birth.
According to legend, in the 6th century, the monk David of Gareja of the Thirteen Assyrian Fathers (Preachers from the Middle East spreading Christianity in Georgia) was accused by a woman of making her pregnant. David then prophesied that to prove his innocence, she would give birth to a stone instead of a baby. His prophecy came true and the place received the name "kashveti".
Before Kashveti, there had been a damaged church made from bricks at the request of the Amilakhvari family (noble house in Georgia) in 1753.
On its site, The Kashveti Church was constructed between 1904 and 1910 by German architect Leopold Bilfeldt. Many members of the Georgian nobility and bourgeoisie sponsored its construction, while local stonemasons and artists helped with building and frescoes.
What to see
Though not large,it is still a beautiful and an impressive little church.
The church is located in a small park, which is a great little place to relax in the shade.
There are many other famous landmarks and attractions nearby, including the parliament , Rustaveli Theater and Liberty Square.
General info
Entrance is free.
The church is typically open from around 9am till 5pm. There are ceremonies and choirs during the weekends in the mornings.
20 minutes or so is enough time to see the church.
As with most Georgian churches, women are expected to cover their heads with scarves and men are expected not to wear hats or shorts.
Since Kashveti Church is in the center and easy to find, the best time to see it is when you're onRustaveli Avenue en route to somewhere else.
How to get there
Metro to either Rustaveli or Liberty Square and walk from there.
By bus, taxi or marshrutka (minibus).