What was once one of the busiest bazaars in Tbilisi is now a district filled with cafes and restaurants, and marks the entrance to Old Tbilisi.
In addition, it is close to Metekhi, Metekhi Bridge, Narikala Fortress and many other attractions in the historical part of Tbilisi.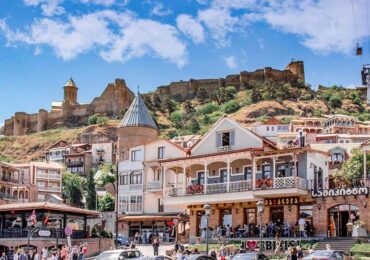 Meaning and History:
According to French travelers in the 18th century, the place has always been a commercial square, a rather famous and a unique one at that. Throughout history, it has gone by many different names, but now it is completely new – yet still the famous attraction it always was.
According to history, the site had close connections to the Silk Road and merchants from other countries would gather there to sell and buy goods. From handmade accessories to Georgian wine and delicacies, the bazaar is one of the oldest trade centers in the whole Caucasus region, where trades supposedly took place as early as the 4th and 5th centuries.
Overview:
It is famous for its beauty, historical and cultural monuments, being the entrance to Old Tbilisi and more. Located in a unique and a well-known area, especially with the hard-to-miss beautiful "I Love Tbilisi" sign made from flowers, which is a popular photo spot. At first glance, you'll notice that that side of Gorgasali Square is lined with as many restaurants as cafes as the eye can see. But if you look a little closer, you'll see parts that show off the cultural heritage better.
What to see:
Before you even get there, depending on the direction you decide to take, you'll be able to see Europe Square and the Metekhi Church before crossing the Metekhi Bridge to Gorgasali Square (which is marked by the statue of King Vakhtang Gorgasali).
From the other side, you'll see the 6th-century Sioni Cathedral, and also be able to stop at the Tbilisi History Museum.
Shardeni is one of the more famous streets in Tbilisi, filled with fancy cafes and bars.
Starting from the Meidan Bazaar, you'll be able to slowly start to take in the historical part of Tbilisi. Starting from the Tbilisi Archaeological Museum, or if you prefer walking and sights, Narikala Fortress has a great view over Tbilisi. And if you want to cool down from all the walking, the Dzveli Tbilisi Sulfur Waterfall is a cool little place perfect for a break and a few happy snaps.
The one thing you'll definitely notice there is the smell. That's the smell coming from Abanotubani (meaning – bath district) district. It's famous for its Sulfur Baths, a unique spa treatment based on sulfur-infused waterand with many health benefits. The district offers a wide variety of bathhouses (of different kinds) to relax in after a long day.
How to get there:
Most, if not all, taxi drivers will know how to get there (though Taxify will probably be cheaper in most cases).
Alternatively, you can take the Metro to Liberty Square or Avlabari and walk.