During the Silk Road era, the North part of Caucasus became an area of interest due to it covering some of the routes of the road. The Silk Road parts that crossed Georgia were in the Svaneti Region. However, when the Silk Road ended, its history did not.
The Silk Museum in Tbilisi is a unique place that was once a Russian research facility, and is now a museum dedicated to silk-making. It is one of the oldest museums in Georgia, , and is one of the best examples of the 19th-century Georgian architecture.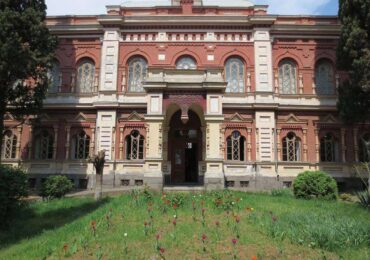 History:
The museum was established in 1887, by one of the best-known silk specialists at the time, Nikolay Shavrov, at the first part of the Caucasian Sericulture Station.
The building was constructed in 1892 in Mushtaid Park and was based on the European model, which also meant practical and educational activities. The museum has its own library, with literature about natural sciences from the 19th century, and to this day, continues to provide educational activities and programs.
The museum went through a difficult phase in the early 1970s, when the institute changed its location from the original museum building and was later transferred to Dinamo Stadium in 1981.
It continued to function as a research center until 1996, when it was listed as a historical monument. Two years later, it was again transferred to Silk House, subordinated to the Ministry of Agriculture. Finally, in 2006, it became a separate and independent entity for the first time.
Overview:
The Silk Museum has more than 5,000 variations of silk exhibits: cocoons, silkworms, butterflies and more. The silk is not only Georgian, but also from other countries with history related to the silk industry.
The building has an interesting architectural style with a combination of classicism, Gothic style, Islamic art and more. The interior includes silk decoration. 
What to see:
The Silk Museum has exhibits and collections from 61 different countries, original furniture which dates back to 1887, and of course, all kinds of silk-related products and exhibits.
Depending on the time of the year, the museum even has branches for farming their own silkworms.
You can also purchase handmade silk produce, books, and cocoons as souvenirs.
The Silk Museum is located next to the Mushtaid Park, which is also worth seeing. 
General information:
Entry is 5 GEL per person.
Open Tuesdays till Sundays from 11am to 5pm.
How to get there:
The easiest way to get there is to walk from Tsereteli Metro, which takes about 10 minutes.
Bus to Tsereteli Street.
Taxi.
Tbilisi silk museum on the map