The Giorgi Chitaia Tbilisi Open-Air Museum of Ethnography, often just called the Ethnographic Museum, is an open-air exhibition of centuries-old architectural and folk craftwork items from different regions of Georgia.
Not far from (and on the way to) Turtle Lake, on a small hill overlooking the Vake district, this museum is essentially a small glimpse into Georgian history, through the various relics that showcase the differences of the many regions.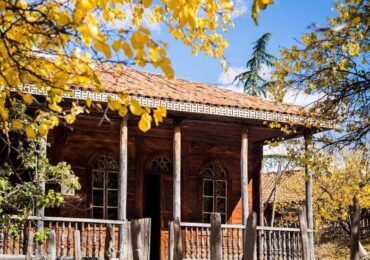 History:
The museum is named after Giorgi Chitalia, a famous Georgian ethnographer at the University of Tbilisi, who traveled through and explored the many Georgian cultures and history.
Giorgi was in charge of leading the branch of Ethnography in 1922, while it was still under the Georgian National Museum. He started planning to construct the National Open-Air Museum during the 1960s and it it was officially founded in 1966.
The Open-Air Museum now stands on just over 52 hectares of land and is spread out through 70 different buildings in eleven different zones. In total, they display up to 8,000 items of historical value. The style of the museum can be best described as a very traditional mix of different cultures: with flat-roofed stone houses from eastern Georgia, openwork wooden houses with straw roofs from western Georgia, watchtowers from Svaneti, Khakhetian wineries (Marani) and so on.
The oldest relics datefrom the 6th and 7th centuries: a familial burial vault with its own sarcophagus, early Christian "Sioni" basilica, and more.
The museum prides itself on having such a wide range of items of different regions, different historical eras, and so on. Since 2004, the Open-Air Museum has been hosting an Art Gene Festival (usually in July or so), the group consists only of musicians artists with the aim of finding problems associated with traditional art culture, and solving them.
What to see:
There is much to see, so expect to spend some time there if you're planning to explore it fully. You can see the way of life for all the parts of Georgia through different eras. From furniture of the 1500s to the history of traditional winemaking.
General information:
The museum is on a hill above Vake Park and close to KusTba (Turtle Lake), so you can hike up to the lake after your visit. Keep in mind that it might be a little time-consuming and tiring, so be sure to bring comfortable walking shoes with you.
Entry is 3 GEL per person.
There aren't many cafes nearby, but there is one near the main museum. Bring water in summer, and a hat.
It might be useful to hire a tour guide in order to enjoy the full experience.
How to get there:
Cable car to Turtle Lake, then walk down to the museum.
Hiking up from Vake Park will probably be more tiring, but is possible.
Taxi.