The Tbilisi Sea, despite what the name implies, is not a natural sea. Rather, it's an artificial lake near Tbilisi that was opened in 1953. Only recently has it become a popular recreational spot with various sports facilities and a lot of interesting sights nearby.
Despite this, this doesn't make the Sea any less impressive and a fun spot to relax in and around. It's surprisingly big, is located near small cliffs and provides impressive views all around.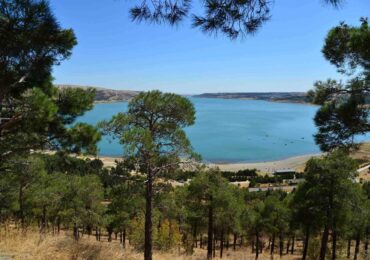 Overview
At just over 8.75km long and 2.85 km wide, the lake has become something like the unofficial "sea" of the city, hence the name and a really popular getaway spot close to Tbilisi.
Due to its location near the hills, it is perfect for when the city gets too hot and unbearable. Probably the best thing, though, is its convenient location, just 15km from Liberty Square.
This is why it has become so popular recently, and at times, it can even be full of people. This shouldn't deter you from going there since there's plenty of room for everyone and the sea is just one of the many places you can enjoy in the area.
What to see:
If you feel like the lake itself is too crowded, you can always enjoy one of the many entertainment spots nearby.
There are a lot of options for drinks, food, and classic aquatic activities like paragliding.
One of the more popular spots is the Tbilisi Sea Club, which provides endless entertainment in the form of festivals, live music, watersports, different swimming pools, sunbathing and more. The festivals depend on the date. You can pay 20 GEL for a whole day to get away from the crowds of people for a more private place.
Next to the Sea Club, is the Tbilisi Yacht Club. Restaurant La Cote provides excellent dining options, and shade to hide from the heat. The Club also provides private pools, of course, and even a separate one for children.
For those who are willing to take a hike a little bit away from the lake, they will be rewarded with The Chronicle of Georgia – one of the most impressive sights in the city, with beautiful monuments and sights that overlook the Tbilisi Sea (and more). Though this destination isn't very well known, even by locals, it is definitely a must-see. Even if it'll cost you a few extra hours, the hike to there is worth the effort.
How to get there:
The easiest way to get there is from Sarajishvili Metro, and then by taxi.
Hiking or cycling there is also possible, if not a little tiring.