Anchiskhati Basilica of St. Mary –or more commonly, just Anchiskhati – is the oldest church in Tbilisi.
Built in the 6th century by the king of Iberia, Dachi Ujarmeli, the church stands proudly as a testament to Georgia's long history.
Meaning and history of the church
The name literally means Anchi's icon and has a long backstory that says a lot about Georgia.
According to historical sources, the church was first dedicated to the Virgin Mary, but was renamed in 1675.
This was because the icon of Christ was moved from Ancha monastery (in Klarjeti, which now belongs to Turkey) to this one. At the time, Ottoman invasions were frequent and the icon would be better guarded in the capital. The image is one of the greatest relics in Georgia and was preserved at the Basilica until the 19th century when it was moved again. It now resides in the Art Museum of Georgia as one of the oldest relics there.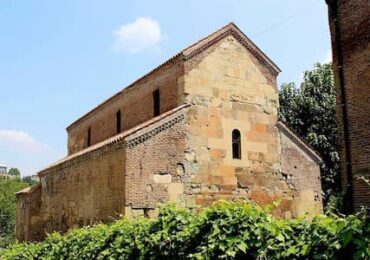 As for the Basilica itself, it has also withstood many invasions and attacks. The church was rebuilt on several different occasions, from the 15th to 17th centuries due to wars with the Persians and the Turks. Finally, during the 19th century, the look of the church underwent further drastic changes and a dome was added. But this change did not last for long since due to the cessation of religious ceremonies during the Soviet period.. At that time, the church was used as a museum for handcrafts and later as an art studio. In 1991, when the Soviet Union collapsed and Georgia regained its independence, the basilica was restored and reverted to a place of worship.
Anchiskhati offers beautiful sights and a great experience to learn more about Georgian culture and religion.
General info:
The church is generally open from 10am till 4pm.
Entry is free, but like most Georgian churches, women are expected to have their hair covered and men are expected not to wear shorts or hats.
There are usually ceremonies and choirs chanting on the weekends at 9am.
How to get to Anchiskhati:
Metro to Liberty Square, walk to 11 Ioane Shavteli St (takes around 10 minutes).
Buses that go to Baratashvili street, cross the street.
Taxi.
Marshrutka (minibus)