The Griboyedov Theater is a professional Russian drama theater named after Alexander Griboyedov, a Russian playwright, poet and diplomat, and is 160 years old. This makes it the oldest theater in all of Georgia – and indeed the Caucasus.
The building is located on the main street of the city, Rustaveli Avenue and, despite its age, is still going strong. For the longest time it has attracted visitors from many different countries (from Russia to the UK), and is one of the most iconic theaters in Tbilisi.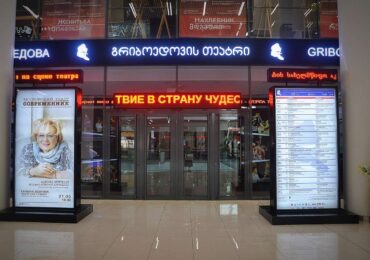 History:
The history of the Griboyedov Theater begins in 1845, when Prince Mikhail Vorontsov established the first Russian theater in Georgia. This didn't last long, as a change in government led to its abolition.
The theater officially re-opened in 1932, under a different name, now named after Griboyedov. Throughout the years, the theater enjoyed steady growth and success. The performances there were usually full of talented actors and writers, who helped establish a spot for Russian cultural theater in Georgia.
The theater began to show signs of declineduring the collapse of the Soviet Union, like many other places in Georgia. But it began to grow again after 1999, when Avtandil Varismashvili became director of the theater.
Avtandil managed to revive the soul of the theater and give it a new unique look and style. Under his charge, the theater has put on 28 different unique plays, including international productions from foreign artists, children's plays and more.
The theater was recognized with the Supporters of Tolerance award in 2012, and the Golden Knight Grand Prix award in 2013 in Moscow, among other prizes. The Griboyedov Theater celebrated its 170th anniversary in 2015, and to this day Avtandil is still the director and it continues to thrive.
What to see:
You might want to plan ahead if you'd like to see a play.
The Griboyedov Theater is next to Galleria Mall in Liberty Square, which has a lot of cafes and shops.
General information:
Most performances are in Russian. But if you're into theater and the performing arts, it is still worth seeing some of the plays.
For schedule, program information and to buy a ticket, see their official website here
 How to get there: 
 2/4 Shota Rustaveli Avenue.
Metro to Liberty Square, the entrance is just next to the Galleria Mall.