The House of Melik-Azaryants on Rustaveli Avenue is a beautiful building that occupies a large portion of the streetscape. Among other historical buildings on Rustaveli, it stands out due to its history and looks. But despite all its glamor, its history is tied to tragedy.
As the name implies, the history of the building follows (Aleksandr) Melik-Azaryants, a member of the First Guild, wealthy merchant and the owner of an oil deposit.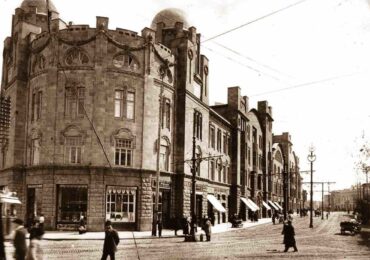 History:
Melik-Azaryants was a famous Tbilisi-Armenian merchant, member of the Board of Charity Community and investor benefactor of many hospitals, schools, and churches in Tbilisi. However, despite his wealth and investments into the community, in his old age, he lived a cruel life full of sadness and died in poverty.
Construction of the house began in 1912, and was finished in just 3 years. The building had its own power supply, water pipes, heating and numerous other commodities that few buildings had at the time. To this day, the house stands as a symbol of Old Tbilisi.
However, shortly after the merchant was done with the construction, when most of his resources were exhausted, his daughter passed away at a young age. Overwhelmed by grief, Melik-Azaryants decided to invest whatever strength and resources he had left into the luxurious building, as a tribute to his daughter and to cope with the pain. The stone wreaths found on its towers now stand as a monument to his daughter. Nevertheless, the house brought him nothing but pain.
To make things worse, when the Red Army entered Tbilisi in 1921 and installed a communist government, Melik-Azaryants was stripped of most of his wealth, including the house. Instead, he was given just one room (the basement) in his once-luxurious mansion.
The merchant later died in poverty and was buried with the help of his friends' money.
What to see:
The Academy of Sciences, an angular tower with an Italian style architecture, is just across the house. The Georgian National Academy of Science is also close, as is the Georgian National Opera Theater, the Kashveti Church, the old Parliament of Georgia and other historical sights, all within walking distance.
General information:
Since it's just along the Rustaveli Avenue, plan it as something to see along your route.
How to get there:
Right next to Rustaveli Metro station on Rustaveli Avenue.
Bus taxi, or marshrutka (minibus).