Turtle Lake is the direct translation of Kus Tba (Ku – Georgian word for turtle), named after the shape of the lake, which resembles a turtle, and because apparently there was once an abundance of turtles living there.
Just near the outskirts of the capital, Turtle Lake is a great little recreational getaway for the weekends, ideal for swimming (depending on the weather), hiking, exploring the nature, the many cafes and bars found there, or simply sitting down at the shore and enjoying at the sunset.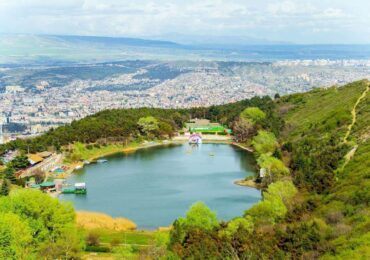 Overview:
With a surface area of 0.034 sq km, and the trail around it just over 1km, the lake isn't exactly big. Rather, it's ideal for a stroll or jog around, or hiking in the nearby woods, though the fun doesn't stop there.
Despite its size, there is a lot to do at the Turtle Lake and the views of the green and beautiful cliffs are what make it great. . And since the lake itself is high on a hill, the vibe and atmosphere is always calm and tranquil, filled with fresh air.
Almost all of the cafes overlook the lake, in case you prefer to sit down and take in the view instead of hiking.
But if you do prefer to walk, the route around the lake is lovely (though a little crowded for cycling), while there are also trails for going even higher, and exploring the wilderness (no predators, but watch out for snakes in hotter months). These trails offer great panoramic views of the city, rocky gardens, forests and otherwise beautiful nature. Of course, if you're planning to take that route, be sure to bring comfortable walking shoes with you.
How to get there:
The easiest way to get there is through the Turtle Lake cable car found on 76 Ilia Chavchavadze Avenue, which takes around six minutes, costs 1 GEL for a one-way ticket and offers a great aerial view of the city.
You can also take the bus #59 from Rustaveli Metro Station to Vake district and get off at the last stop. From there, you can either hike up, which takes about 30 minutes (or walk and then hitchhike the rest of the way), or take a taxi which costs about 3 GEL.
Taxis back down are more expensive, so using Taxify app is recommended unless you're in a hurry.