Lisi Lake is a beautiful small lake just near Tbilisi that is ideal for weekend getaways for anyone who enjoys the outdoors and a healthy lifestyle.
About 17km from central Tbilisi, and with a surface area of about 0.47 sq. km, Lisi Lake is a perfect hideout for when the weather gets too hot in the city, and you want to get away from it all somewhere where it's not too hot and crowded.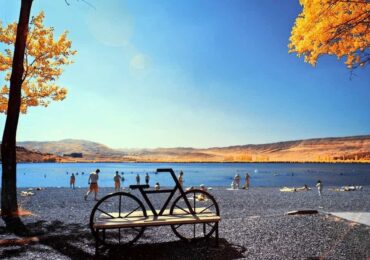 Description:
The area surrounding the lake can be best described as rocky, humid, and home to a lot of shrub vegetation. All this, surrounded by green and beautiful cliffs and forests. The lake and the nearby district are also home to exotic birds, tortoises, foxes and hares, while the forests close by are said to have some snakes.
What to do at the lake:
After going through a recent renovation, the lake is now surrounded by a cycling path, has more lights, and in general, is more alive than ever.
Close to the lake are terraces and bars (Hard Rock Cafe Lisi, Lisi Lounge, etc.). Depending on the weather, travelers can swim in the lake or ride small boats.
Either way, you will at least enjoy watching the sunset over the small lake while sitting on some blankets or having a little picnic near the shore.
Things to see:
In the evenings, live music can sometimes be heard and the nightlife really starts to come alive. The Hippodrome, which is just under 2km away, is home to the Lisi Wonderland and Tbilisi Open Air festivals. So, if you're into live music and events, you might have to plan ahead and mark the dates.
There is also the Lisi Bath House next to the lake, with the sulfur baths not limited to Abanotubani. Though Tbilisi has a long-lasting history with bathhouses, this one is more modern and is popular among tourists and locals alike.
And finally, for those willing to go the extra mile and are not afraid of a little action, the lake is also close to a paintball club.
General information:
How long you'll spend there depends entirely on you and what you like to do. If you're planning to cycle the whole route and then relax at the shore, it's probably best you come a little earlier to save time.
You should definitely go there before the evening, so you can witness the sunset over the lake.
How to get there:
The easiest way to get there is with a taxi.
Or if you're feeling adventurous, you can also hike up there. And if you get tired or change your mind, you can hitch-hike the rest of the way because there's always someone driving up there with a car.