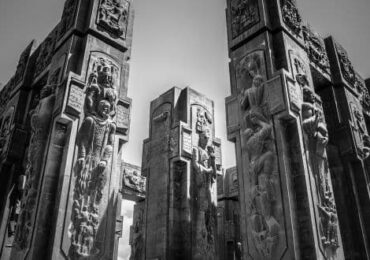 The Chronicle of Georgia is a huge stone monument that goes by many different names. Often called "The Georgian Stonehenge" or "History Memorial of Georgia", the Chronicle monument is a collective of astonishingly huge pillars on top of a hill and with a very special vibe to it.
Despite its size, it can be easy to miss and not a lot of people, even locals, know about it in the first place. Because of this, it can be hard to even find information about it online, but this place is worth a visit.
Meaning and history:
The Chronicles of Georgia monument was created by Zurab Tsereteli, a talented Georgian-born, but Soviet-trained, sculptor and architect. The construction started in 1985, but to this day it remains partially incomplete.
After walking up the many stairs, the view is worth the effort.
The monument stands about 30 meters tall and describes the history, or chronicles, of Georgia. The top part contains kings, queens and heroes who are remembered in history, while the lower section portrays scenes from the life of Jesus Christ.
In front of the monument, there is the cross of St. Nino, the woman who brought Christianity to Georgia in the 4th century. And behind the huge  stone pillars is a small chapel.
What to see:
The massive monuments that tell the history of Georgia.
The medieval-looking Georgian script found near the pillars, that also tell the Georgian Chronicle.
The small Georgian Orthodox church next to the memorial.
One of the best views found in the city, a panoramic view of the Tbilisi Sea, its nature, and the communist-era buildings of the Tbilisi suburbs.
The Tbilisi Sea is within walking-distance, so depending on the time and the weather, you can go there after seeing the Chronicle.
General information:
The place has amazing views from all over the hill, so be prepared to spend some extra time there and have a good camera handy. Or, you could also bring a drone if you want to fully capture the monuments from all angles.
Be ready to spend up to an hour here. If you decide the come in the evening, most of Tbilisi will be illuminated and make the view even more special. Just plan ahead so it's not raining or cloudy.
You might have to do some walking, up the stairs and around the monuments, so be prepared to break a sweat. It can also be windy in the evenings.
How to get there:
Metro to Sarajishvili and walk (about 45 minutes to an hour).
Find a reliable taxi, most of them might not understand if you say you want to go to the Chronicle of Georgia. You can order one through Taxify, and enter your destination. Either way, once you get near the Tbilisi Sea, you'll definitely be able to see it from there. The price of the taxi from the city centre is usually around 10-12 GEL.
Chronicles of Georgia on the map