Tbilisi Sulfur Baths
One of the most memorable things you can do in Tbilisi is try the sulfur baths – the Georgian take on a unique spa treatment.
Located in one of the most unique and recognizable neighborhoods in Tbilisi (Abanotubani), the sulfur baths are a great way to relax, not to mention the countless health benefits that come with them. There is a lot of variety when it comes to choosing which bathhouse to visit, but they all have a shared history.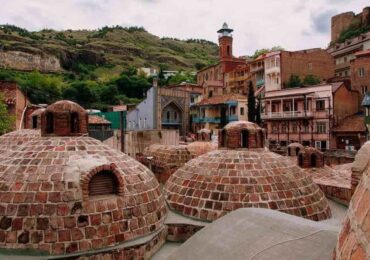 Meaning and history:
Abanotubani, literally meaning "bath district", is an ancient part of Tbilisi, known for its famous brick houses and sulfur bathhouses.
The origin of the bathhouse district dates back to when the city was founded and plays an important part in its history. According to the legend, when the falcon of King Vakhtang Gorgasali fell in one of the hot springs, the king decided to build the capital on top of the springs. As a result, Tbilisi earned its name ('warm place') from the very same hot springs that ran under the city, and which eventually became the foundation for the bathhouses.
Many of the bathhouses were inspired by traditional Persian-style baths, but the difference is that the water in Tbilisi is not manually heated. Instead, it comes from the ground and is naturally hot.
The sulfur baths have long been very popular. Famous visitors in the past include the legendary Russian poet Alexander Pushkin who, upon his visit in 1829, complimented them, saying: "Not since I was born have I encountered the luxury of Tiflis' baths." And that is a really accurate way of summing them up.
Besides being incredibly relaxing, the bathhouses are also said to have countless health benefits. The sulfur in the water helps with dry skin, rashes, joint problems, acne and more.
General information and what to expect:
There are a lot of choices to consider when selecting a bathhouse, and each one is different, but here are some things you should keep in mind regardless of where you go:
Prices typically are per hour and start from around 20 GEL (for public ones) and go up to 200 GEL (usually for the private/luxurious ones). Massages start at an extra 10 GEL per person. How much you end up paying depends completely on what you're looking for. For a clean and a spacious room with some extra furniture, expect around 60-80 GEL.
Most bathhouses offer two different types: public and private rooms, with the latter obviously more expensive.
If you want to save money, you can bring your own towel, soap, shampoo and slippers.
Inside the rooms you can be either naked or in your swimwear, whichever makes you more comfortable.
Be sure to bring a bottle of cold water so you don't become dehydrated since it's really hot inside. .
Most bathhouses are open from 7 or 8am till until 12pm, while some private ones are open 24 hours.
Most importantly, you should embrace the experience. It might seem awkward at first, but it makes for a very memorable experience with a healthy and a relaxing bath.
How to get there
Metro to either Avlabari or Liberty Square (requires additional 10-15 min of pleasant walk)
Bus to Abanotubani
Taxi
Marshrutka (yellow minibus)