Tbilisi Botanical Garden, or The National Botanical Garden of Georgia, is a historical garden sprawling over 161 hectares and home to as many as 4,500 taxonomic groups.
The garden's history spans for more than three centuries, and its collection contains flora from all over the world: including the Caucasus region, China, Japan, the Himalayas, North America and more.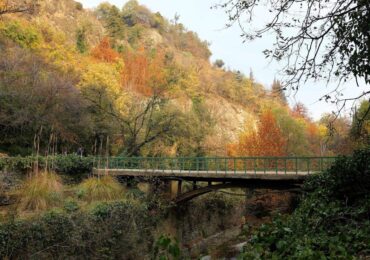 History:
What started as a royal garden in 1625 has gone through a lot, survived an invasion and managed to flourish against all odds.
The recorded history begins with French traveler Jean Chardin, who described the place as royal gardens which might have been founded in 1625 and later referred to as 'fortress gardens'. The garden also appears in the records of Joseph Pitton de Tournefort (French botanist) in 1701 and after that, on the Tbilisi map in 1735.
It was pillaged in the Persian invasion of 1795, but managed to survive, and was restored in the early 19th century. Itt was officially established as the Tiflis (old name for Tbilisi) Botanical Garden in 1845.
A plant nursery was set up in 1888, where Russian botanist Yuri Voronov and other notable scholars and botanists helped with expanding the garden. Since the early 20th century, it kept on expanding further west.
Now, the main entrance to the Garden is located near the Narikala Fortress in the Old Town and the garden covers more territory than ever. There is a second entrance accessible from the Mother of Georgia statue.
What to see:
There is a lot to see at the Botanical Garden, considering the area it covers and the amount of flora it holds.
The Tsavkisistskali River which divides the gardenboasts several waterfalls and many viewing points can be found that are ideal for taking pictures.
There are more than 4,500 types of plants in total in the garden, from all over the world.
A lot of separate gardens, waterfalls and parks.
A zip line that allows you to see the garden, waterfalls, Japanese garden, and more as you go – albeit rapidly.
General information:
The garden is open from 9am to 8pm.
Tickets are 2 GEL per person.
Keep in mind there are a lot of steps and a lot of area to cover – be sure to bring walking shoes and some water. There are also benches and beautiful places for a break in case you get tired.
The zip line costs 30 GEL, and the entry fee to the Botanical Garden is included.
It takes up to 3 hours to see the whole garden, so plan ahead.
How to get there:
Metro to Liberty Square, and either grab a taxi, bus, or walk (2.5km).
Bus to Dadiani Street and walk (2km).
Marshrutka (minibus)
You can also take the cable car from Rike Park to Narikala Fortress and walk from there.