New Tiflis, or Tbilisi, is a pedestrian street on Agmashenebeli Avenue. It looks very 'European' and is unlike most streets in Tbilisi.
Paved with cobblestones and illuminated by bright lights, New Tiflis is very easy to find and is within close reach of everything. Even though Rustaveli Avenue is considered the main center of Tbilisi, New Tiflis is a close runner-up and attracts just as many visitors.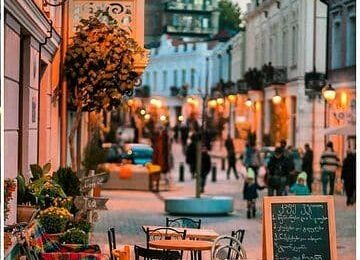 The backstory:
The streets from parts of Marjanishvili Avenue and Saarbrucken Square have been fully rehabilitated and repaired as a result of the government's 'New Tiflis' project. The project launched in 2016 with the goal for parts of Tbilisi to undergo a rapid transformation: to renovate the old parts of the city while retaining their historical charm.
Description:
With one look at the New Tiflis walking street, you can see that this is indeed the case and so far, the project has been successful. The street spans just over 500m, is pedestrian-only, and many of the century-old buildings now look as alive as ever, without detracting from the architectural style.
Although the street is rather short, especially compared to the Old Town, there is still a lot to do there. The avenue boasts lots of restaurants, cafes, shops and more. Of course, the best way to really take it in is to sit down in one of the many cafes there and enjoy the wine while admiring the scenery. If you don't enjoy drinking, the street offers a lot more, from delicious food to interesting sculptures and architecture, making it an ideal place to relax and take photos.
As the name implies, this street is nothing like Old Tbilisi. So, if you're looking for a change of scenery, be sure to check out New Tiflis, and look at the more 'European' side of things in Tbilisi.
General information:
The street isn't very long, so, unless you're planning to sit down and relax, walking it won't take much time.
It's really easy to find, and within walking distance of many other attractions nearby, including Rustaveli. So you can explore both centers on the same day.
The cafes and restaurants range from more fancy (expensive) ones to cheap and cheerful. Something for every budget.
How to get there
The easiest way is to walk from Marjanishvili Metro station.
Taxis, and buses also go there and most people should be able to help with directions.