Like most Georgian churches and fortresses, Narikala Fortress has its roots set deep in Georgian history. This ancient barbican overlooking Tbilisi was once a military fortification used for defenses in the many wars Tbilisi was in.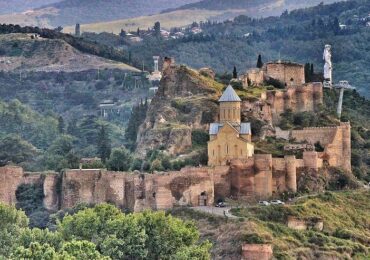 Meaning and history:
Though there is no clear definition or original source for the name 'Narikala', most references point to it being a Persian word meaning 'citadel', since it was initially a Persian fortress. Another theory suggests that the Mongols used it, meaning 'little fortress'. Either way, both theories make sense in that the origin has to do with war and both cultures played an active part in its history.
Established in the 4th century, Narikala was originally a Persian citadel under the name of 'Shuris-tsikhe' (invidious fort). For the most part, the fortress was used for defense and in wars. It wasn't anything special, but as time went on, the importance of the fortress also increased.
It was expanded by the Arabs in the 7th and 8th centuries, and then by King David the Builder in the 11th century. What is now left of Narikala is mostly the extensions from the 16th and 17th centuries. But unfortunately those extensions did not last long as well due to the earthquake of 1827.
After enduring so much, the fortress was once again renovated in 1996. It now consists of two walled sections between the sulfur baths and the Botanical Gardens of Tbilisi. Another addition is the St. Nicholas Church, which can be found on the lower court side. The church is of the "prescribed cross" type and replaced the 13th century church that was destroyed in a fire.
What to see at Narikala
Narikala Fortress itself is quite big and covers a lot of area. It overlooks Tbilisi, the Mtkvari River and some parts of the Old Town. The Narikala tourist route covers about 1,500 meters and offers some of the best views of the city.
The newly-built St. Nicholas Church, a chapel on the hill in the lower court of Narikala. The interior is decorated with icons and frescoes showing scenes from the Bible and the history of Georgia.
General information
Admission to the church and fortress is free.
When going inside, women are expected to wear headscarves, and men are expected not to wear shorts or hats.
Plan at least an hour or two if you want to see the whole thing. And be sure to bring water and wear hiking shoes in this case.
If you want to avoid the heat, you might want to go there in the evening, when it might be a little windy and it affords an illuminated view of the capital.
How to get there:
Metro to Liberty Square and walk from there (about 1.2km away).
Bus to Abanotubani.
Taxi.
Marshrutka (minibus).
To avoid a lengthy climb and get an interesting overview of the Old City, you can take the Rike-Narikala cable car from Rike Park.