The National Shota Rustaveli Theater is the largest and one of the oldest theaters in Tbilisi. The theater is a cultural landmark for Rustaveli Avenue. Both are named after the legendary 12th-century Georgian poet Shota Rustaveli.
The theater is home to some of the best performances Georgian artists have to offer. As one of the main theaters in the city, the building stands out due to its architecture, history and its importance as a cultural landmark.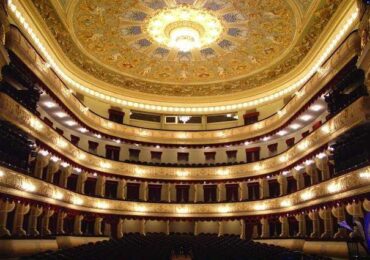 History:
Shota Rustaveli Theater began as part of a collective called "Artists' Society" in 1887. This society was a group of talented young artists who were sometimes commissioned to paint frescoes or paintings on walls.
The building officially came to be known as the Shota Rustaveli Theater in 1921, when the construction was funded by an Armenian businessman and philanthropist, Alexander Mantashev. Since then, the theater has gained a reputation for its theatrical performances and by world-famous playwrights and artists.
Although the building has not changed much over the years, it notably went through renovations from 2002 to 2005, funded by Georgian businessman Bidzina Ivanishvili.
Overview:
As of now, the building has three different stages: the main stage, which holds up to 800 seats, the small stage, with 283 seats, and also a 'Black Box Theater' (a large performance space, used for experimental performances) which holds about 182 seats.
Aside from that, Shota Rustaveli Theater also has a lounge, a foyer, and other rooms reserved for conferences and events regularly.
The architectural style of the building is very mid-century Italian, especially the outside. It is very dramatic, and easy to spot from afar. The interior is also very beautiful with interesting and detailed lightings and decorative ceilings.
General information:
There are often posters hanging outside the building that act as a preview and show the program in advance. You can also see the full schedule and buy tickets online at their website here.
Of course, most performances are in Georgian, unless specified otherwise. You can see this kind of specific information and more about each play on their website.
How to get there:
Shota Rustaveli Theater is at 17 Rustaveli Avenue, near the Marriott Hotel.
The easiest way to get there is to walk from Rustaveli or Liberty Square Metro stations, or take a taxi.
Any busses or marshrutkas that go to Rustaveli Avenue also stop near the theater.