The National Museum of Georgia is a huge building with 4 floors' worth of very rich and interesting exhibits about the country's long history.
For anyone interested in a crash course in Georgian history, a visit to the National Museum can certainly take care of that for you – in just one day.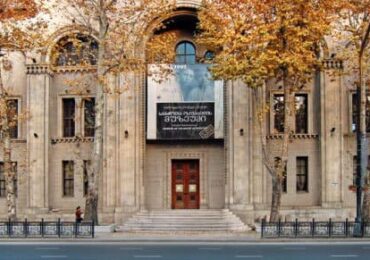 History:
The National Museum of Georgia formed in 2004, with the aim of unifying some of the leading local museums at the time. The director behind the project, professor and anthropologist David Lordkipanidze, established it with the goal of having one common framework to manage the whole thing better. This meant having the same structural, institutional, and legal reforms and more.
Description:
Now, the National Museum includes the management of the following 10 museums in Georgia:
Simon Janashia Museum of Georgia.
Samtskhe-Javakheti History Museum (in Akhaltsikhe).
Open-Air Museum of Ethnography.
Art Museum of Georgia (and its other branches).
Museum of the Soviet Occupation.
Dmanisi Museum-Reserve of History and Archaeology (in Dmanisi).
Vani Museum-Reserve of Archeology (in Vani).
Museum of History of Tbilisi.
Museum of History and Ethnography of Svaneti (in Mestia).
Institute of Palaeobiology.
Sighnaghi Museum (in Sighnaghi).
The National Museum now is the center for all significant collections of art, culture and historical education.
What to see: 
As mentioned, the museum consists of four different floors.
The basement of the building has the treasury and the ground floor holds mostly archeological exhibits.
The first floor showcases the ancient history of Georgia, from the 2nd century BC. This includes jewelry, different kinds of material, weaponry, coins and more. One of the most interesting exhibits is one of the oldest humanoid skulls (Homo georgicus), found in Dmanisi and believed to be about 1.8 million years old.
Finally, the top floor holds the Museum of the Soviet Occupation.
Art there comes from many different countries and different eras, including Christian art, masterpieces of Oriental, Western European and Russian decorative art.
The detailed list of the museum's collection can be found on their official site here.
The Art Museum of Georgia, which is also worth seeing, is within walking distance from the National Museum.
General information:
The museum is at 3/10 Rustaveli Avenue and the big building is easy to spot.
The museums are open from 10am to 6pm, Tuesdays through Sundays.
Visiting most of the exhibits can take up to 3 hours.
Entry is 7 GEL per person. 
How to get there:
 The museum is very close to Liberty Square, just a few minutes' walk from the Metro.
Taxis, buses, and marshrutkas (minibuses) that go to Rustaveli Avenue.
National museum of Georgia on the map