Vorontsov's Palace is one of the most famous cultural landmarks established in Tbilisi. Completed in Renaissance style in 1868 by the Russian Prince Mikhail Vorontsov, the construction began before that, in the early 19th century, but the cultural impact and importance has carried on since then.
As the name implies, the palace was associated with Count Mikhail Semyonovich Vorontsov. At one point in time, he controlled most of the Caucasus and a whole era in Georgia is associated with his name.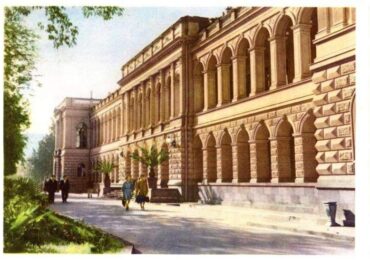 History:
In the beginning, the construction of the palace began with General Pavel Dmitriyevich Tsitsianov, a Georgian nobleman and a prominent general in the Russian army, but it wasn't until Vorontsov's time that it was fully constructed.
During his rule, most of Georgia prospered and enjoyed additional benefits and improvements. Georgia saw a lot of new schools and public libraries constructed, its first theater opened, the newspaper "Caucasus" was published and many Caucasian traditions were revived.
After the Vorontsov era, during the Soviet times, the Palace was primarily used as the Department for Children and Youth Affairs. After Georgia regained its independence, it became the official Youth Palace of Georgia. Today, the building acts as accommodation for different hobby groups for children, a sports club and more.
What's left of the Palace is one of the most beautiful buildings found on Rustaveli Avenue and it perfectly captures the general atmosphere of the cultural monuments found there. Due to its distinctive European architecture, the Palace is easy to spot, and remains a beautiful sight with an interesting story behind it.
What to see:
Now a youth center, it is the oldest construction on Rustaveli Avenue. The palace's interior is a mix of colors, along with the decors inside. However, unfortunately, it isdifficult for just anyone to get inside due to its current purpose.
There is a small park around the building in which you can take a walk and admire the beauty of the place.
General information:
Unfortunately, entrance is not allowed since classes for children are being held there most of the time.
Despite this, there are a lot of other nearby attractions within walking distance (Parliament of Georgia, Kashveti Church, Art Museum of Georgia and others) and a small park next to the Palace.
You don't need a long time to see the building, so plan it as a quick stop, something to see along your route.
How to get there:
Metro to Liberty Square or Rustaveli and walk.
Bus to Liberty square.
Taxi.
Marshrutka (minibus).