If the name Metekhi Church sounds unfamiliar to you, then simply seeing its photo will remind you which one it is. This is one of the most recognizable churches in Tbilisi, partly because of its location.
On the left bank of the Mtkvari and atop a little cliff is the famous Metekhi Church overlooking the river. Next to it is a statue of King Vakhtang I Gorgasali on a horse.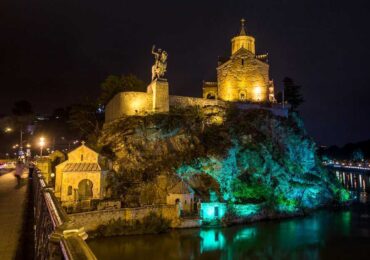 Meaning and history behind the church
The Metekhi Church is in one of the earliest-inhabited areas of Tbilisi, and the statue of the king has a lot to do with the church's history.
The name Metekhi, which dates back to the 12th century, means "the area around the place/castle".
Vakhtang I erected a church and a fort as his residence area in the 5th century, when he made Tbilisi the capital.
The existing church was built in the 13th century and, like most Georgian churches, has been reconstructed many times due to wars and invasions.
Because of this, King Rostom decided to fortify the area around the church in the 16th century with a garrison of around 3,000 soldiers. But under the Russian control in the early 19th century, Metekhi lost its original religious purpose. Instead, the Russians used it as barracks.
In the late 1980s the Catholicos-Patriarch of All Georgia Ilia II launched a campaign aimed at the restoration of the church to the Georgian Patriarchate. Despite opposition from the local Communist leadership, the Metekhi Church began to function again as a place of worship in 1988.
What to see at the Metekhi Church:
The church itself is of cross-cupola style, since this was the most common throughout the Middle Ages.
The statue of King Vakhtang Gorgasali next to the church.
The Metekhi Bridge was the first built in Tbilisi. It was initially made from wood in 1821 and then replaced by a metal one in 1870. The current bridge was built in the 1950s.
Beneath the cliff, near the bridge, is a small church in the name of an Arab Christian Martyr Abo of Tiflis, who was executed near the bridge
General information:
 Like most churches in Georgia, women are expected to cover their heads with a scarf, and men should dress modestly (no shorts, hats).
Entrance is free.
The best time to visit is during the evening, when the whole place is illuminated and the view from the cliff is also beautiful.
To see the church, its yard and the small Abo church beneath it takes around 30 minutes.
How to get to Metekhi Church:
Bus or marshrutka (minibus) to Europe Square, walk from there for a few minutes.
Metro to Avlabari, walk from there for about 10 minutes.
Taxi to Metekhi Bridge.