Samoseli Pirveli, which literally translates into "The First Garment" is a store that specializes in traditional Georgian clothes, for both men and women. The shop sells everything from classic Georgian folk clothes to medieval chokhas and other types of clothes.
The store is aptly named after a very famous Georgian novel by Guram Dochanashvili. The book is an important piece of literature in Georgian history, and for the name fits perfectly with the shop's objectives.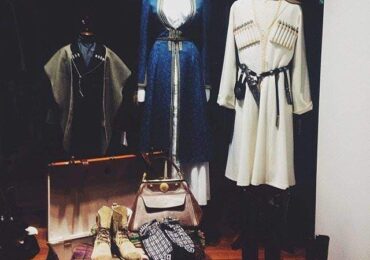 History:
The novel is based on The Parable of the Lost Son and acts as a retelling of the story from the Bible. Like the passage from the Bible, the Georgian novel plays an important part in Georgian culture.
According to the owners of Samoseli Pirveli, the reason for naming it after the novel was to represent the Georgian culture and the traditional dressing/clothes culture. Although we're probably not going to see people wearing chokhas everyday, as in the old times, the shop always holds Georgian culture close to its heart.
Samoseli Pirveli officially opened in 2008, at first in a studio, mainly focusing on men's clothing. Two years later, additional shops opened up as they began to grow.
Overview:
Now, they also sell women's clothing, handmade national carpets, shoes, vintage-style bags and many other traditional accessories and clothing.
The main traditional clothing, the chokha, has been widely worn since the 9th century by men mainly at weddings and national events. Though there are different types of chokhas, depending on the region and so on, they're all equally important as a symbol of national pride. Nowadays, men mostly wear them during weddings (and even that can be rare), and other festive events where it's important to express national pride.
Traditionally, chokhas were designed for war. Hence the small bullet pockets sewn into them. Of course, as time went on they lost their primary function and nowadays are mostly decorative.
Samoseli Pirveli also offers fashionable shoes that look modern but still manage to capture the vintage look, women's clothing, handmade rugs and carpets. The styles of dresses range according to the region they were designed in and there is a lot of variety.
Of course, one thing they all have in common is how vibrant, yet medieval and professional they look.
How to get there:
The address is 34 Irakli Abashidze Street, in Vake.
You can get there from Saburtalo, or Rustaveli, depending on where you live and where you're coming from. You can get there with a taxi, buses that go along Chavchavadze Street (and walk from there), or from the Vake Park side.
For more information, you can see their catalog and pictures on their Facebook page or their official website